Anatomy of a mini bitumen sprayer
---
Road construction process involves many equipment which work in a team to make any project a success. The most important equipment are the one which help in mixing and laying asphalt. But the role of bitumen sprayers cannot be neglected. They are the ones which help spray bitumen on the road before the actual laying takes place. The spraying is controlled which does not allow wastage of bitumen.
Mini bitumen sprayer is one such equipment which is one of the most useful for road construction projects. To understand the usefulness of this equipment we need to understand the basic working of a truck mounted sprayer.
Spraying is fixed by a truck mounted sprayer as it is fitted with a spray bar of fixed length. This spray bar is also foldable which means you can adjust the spraying width to cover maximum width of the road in at a single flow. But the variable width of the road does not always allow to get best spraying width. It is also uneconomical to allow the sprayer to run over the same surface again just to complete spraying in the remaining part.
 Related: See details of truck mounted bitumen pressure distributor.
So here comes the small bitumen sprayer for spraying of bitumen on the sides of the road. Essentially this equipment comes with a hand spray flexible pipe which will help you to spray bitumen on the sides of the road where the bigger sprayer cannot reach.
This is a very small and mini machine built on its own chassis and is self towable. The anatomy of mini tar sprayer is explained in the image below.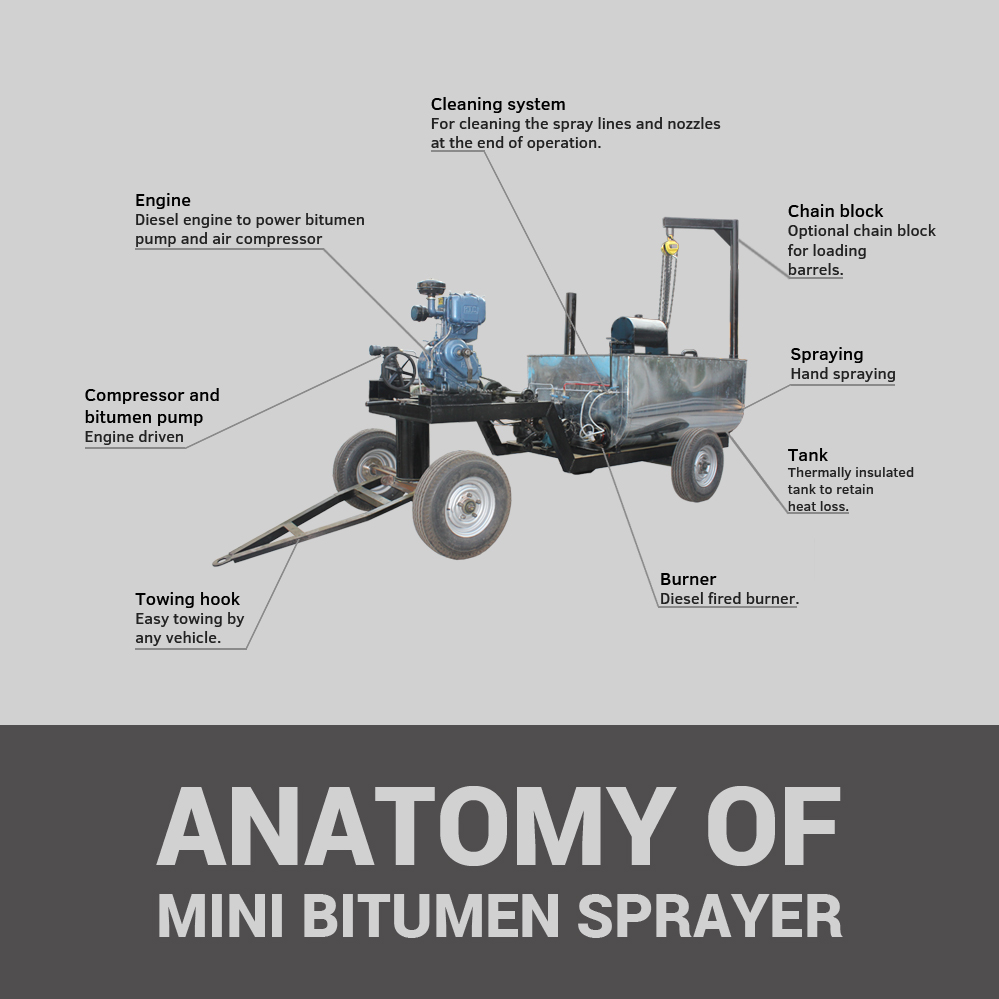 The important components are as:
Storage tank:
Storage tank is insulated by glass wool to retain heat and keep the bitumen hot for a long time. Its size can be customized.
Burner:
Singe pressure diesel burner is simple yet effective and does its job perfectly.
Engine:
This 6.5 HP diesel engine does it job neatly. It powers the bitumen transfer pump and the air compressor.
Bitumen pump and air compressor:
Pump will effectively transfer the bitumen and air compressor can also be used for cleaning of the road.
Spaying system:
Hand spray pipe is provided for effective spraying of the bitumen.
Cleaning system:
Cleaning of the pipe lines is possible by the use of air and diesel.
Chain block:
An optional chain block mechanism can be provided so as to facilitate the lifting of drums and filling of the same easily.
Towing hook:
Simple towing hook which allows towing by any suitable vehicle.
Conclusion:
This sprayer with hand spray bar cannot be substituted with the truck mounted sprayers. The functionality and duty of this equipment differs from the one mounted on the truck. Yes this is a very inexpensive machine to own and maintain and is very useful for jobs that require finishing.