Atlas asphalt batch plant
---
Atlas batch type asphalt plants are designed for customers looking for a reasonably priced batch plant without compromising on quality. We have made use of the best techniques to manufacture our asphalt batch plant. The control panel is fully automatic PLC type.
Atlas Asphalt batch mix plant of ABP series come in three production ranges: 80 tph, 120 tph and 160 tph.
Below are the components of the batch plant.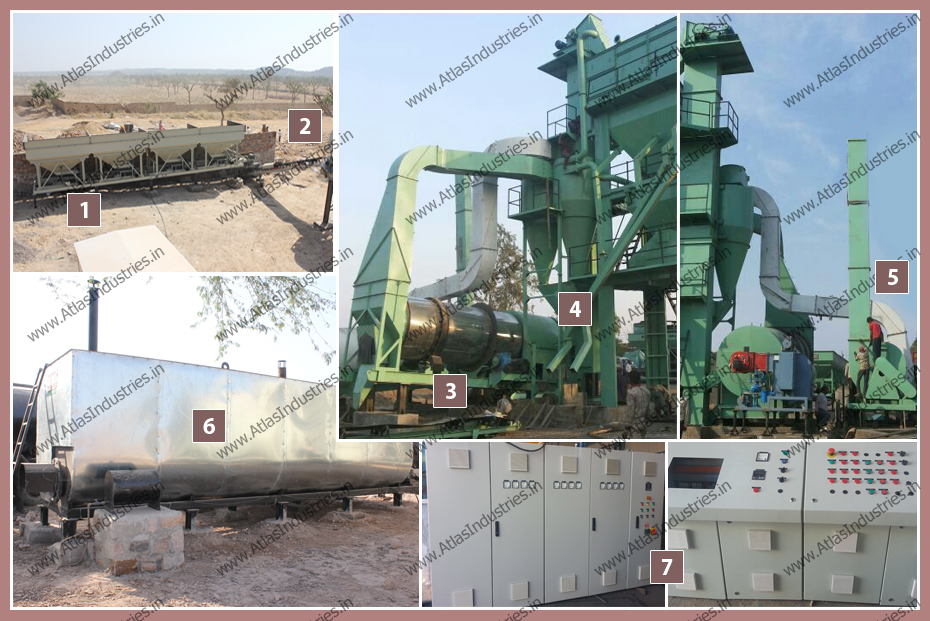 1. Cold Feed Bins: Four bin feeder comes with individual variable speed drive for free flow of aggregates. Required percentage of aggregates from each bin can be customized from the control panel.
2. Slinger Conveyor: It is on a strong frame with endless belt. This conveyor transfers the aggregates to the drying drum.
3. Drying Drum: Counterflow design of the drying drum of asphalt mixing plant ensures best use of burner's energy and allows maximum fuel savings. Drying drum is fitted with a high efficient and low noise burner is capable of drying aggregates to the maximum. Compatible with Diesel and LDO (Optional: Furnace Oil)
4. Dry Dust Collector: it is double cyclone type and it traps the larger dust particles from the aggregates.
5. Wet Dust Collector works in sync with dry dust collector to trap large dust particles by using water. Bag house filters are also available.
6. Bitumen Storage And Heating Tanks: Bitumen tanks are available in various capacities and with direct or indirect heating facility.
7. Control Panel: PLC type control panel is capable of operating the plant automatically. It provides maximum operational efficiency.
BATCHING TOWER COMPONENTS
8. Hot Elevator:
Fully covered hot elevator comes with anti slip feature.
9. Vibrating Screen: Four deck vibrating screen separates four types of aggregates into different sizes and removes oversized material.
10. Hot Aggregates Bin: Hot aggregate bin stores the aggregates into individual compartment before they are discharged into the weighing hopper
11. Weighing Hoppers: Weighing hoppers are separate for aggregates. For minerals and bitumen, the weigh tank is suspended on load cells.
12. Pug Mill Type Mixing Unit: Pug mill mixer is with replaceable liners and for fast mixing in stipulated time. The long discharge door allows quick discharge of the hot mix asphalt.

Asphalt batching plant video