What wikipedia cannot tell you about asphalt mixing plant layout.
---
Atlas always focuses on development of new technology to make each asphalt batching plant better. The aim is to offer customers with better machine which is productive, efficient, environmental friendly and durable.
The main purpose of this machine is to make hot mix asphalt in batches and hence it is named as batching plant or batch plant.
Available in capacities 80 tph, 120 tph and 160 tph there are various advantages of this machine offered by Atlas and they are as:
Plant is available as stationary and semi mobile type
For pollution control one can opt for bag filter or wet dust collectors
The burner supplied is multi fuel. It can work with diesel / FO / LDO. Natural gas burners are also available.
Mixer is twin shaft type with high resistant and replaceable liners.
The control panel offered is PLC type and there is also option to go for SCADA type panel.
Asphalt mixing plant layout is mainly divided into two sections: tower unit and other components.
Tower unit of asphalt plant consists primarily of sections like vibrating screen, hot bins, mixing unit and optional storage silo.
Other components include cold aggregate feeders, primary scalping screen, drying drum with burner, air compressor, fuel tanks, bitumen tanks, heating system for bitumen tanks, filler silo / hopper, bag filter and control cabin.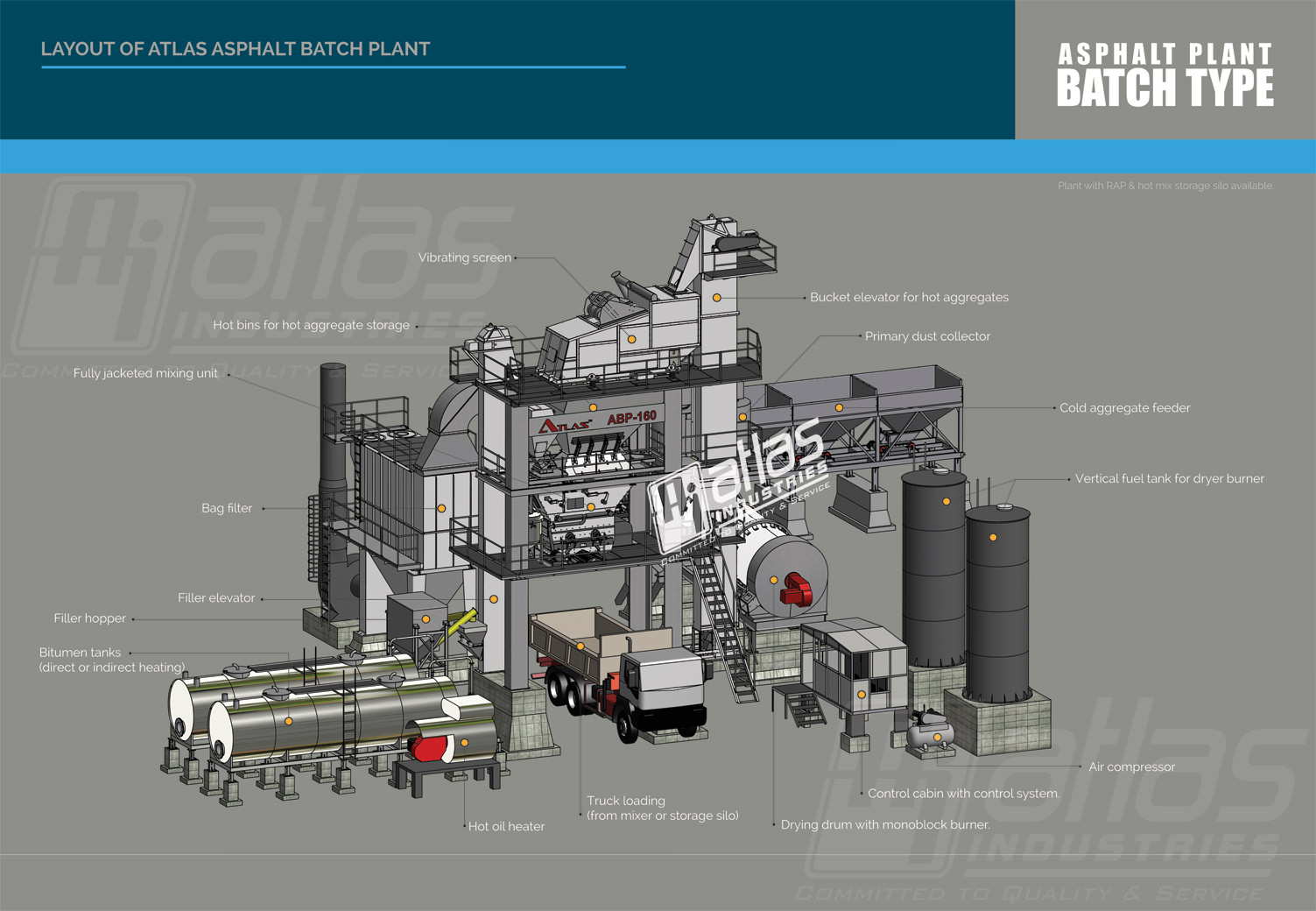 Details of each component are as below:
Cold feed bins: Aggregates are loaded into cold feed bins for delivery into the drying drum. Each bin carries different sized aggregate.
Primary scalping screen: This allows removal of oversized particles before they enter the drum by a conveyor.
Drying drum: Drying drum is equipped with a burner for heating of aggregates and removal of moisture content from the aggregates. The aggregates are then sent to the vibrating screen by a bucket elevator.
Vibrating screen: It has got different layers for separation of different aggregates into different chambers. This is important because we want to weigh different sized aggregates separately so that we can mix the exact amount as required.
Hot bins: below the vibrating screen are the chambers which store the aggregates in separate compartments for a short time. These are known as hot bins. These bins will hold the aggregates till the time they get weighed.
Mixing unit: The mixing unit is fully jacketed and it mixes aggregates, additive and bitumen in quick time to product quality hot mix asphalt.
Weigh scales: Like aggregates, there are separate weigh scales for bitumen and also for mineral filler materials.
Storage silos: The hot mix asphalt produced is delivered directly into waiting trucks or into storage silos where they are stored temporarily. Atlas has asphalt mixing plant for sale with storage silos under the tower unit up to capacity 50 tons.
Pollution control devices: Dry dust collector (cyclone separator) and bag filter work in sync to make sure that the dust and harmful gases are trapped before letting into the environment. Some batching plants come with cyclone separator with wet dust scrubbers.
Mineral / additive addition: Separate silo or hopper is there for addition of filler material into the mix. Even the dust from the bag filter can be recycled back into the mix. Filler / additive material is also weighed prior to addition.
Asphalt cement storage tanks: These asphalt cement storage tanks store and supply the material to the weighing unit located just adjacent to the mixer. The tank capacity can be customized.
Hot oil heater: It is for heating the oil which indirectly heats the bitumen present in the storage tanks. This oil is also used for jacketing the mixing unit and keeps the mixing unit hot.
Fuel tanks: Fuel tanks can be one or two or more depending on the types of the fuels used. They come in different capacities.
Control cabin and panel: Control panel is housed inside the control cabin. Panel allows smooth operation of the full plant sitting in one place. The facilities are sophisticated and PLC controlled.
Apart from the above mentioned units, storage silos and RAP addition facility can also be integrated into the system.