Batch asphalt plant Myanmar
---
Atlas is stationary asphalt plant exporter to Myanmar. We are manufacturer and supplier of quality hot asphalt mixers worldwide. Buy quality product with confidence from one of India's oldest and leading manufacturers of construction machinery Atlas Industries.
Our range includes smallest capacity of 80 tph and then we have 120 tph. The biggest capacity that we have manufactured is 160 tph. All these equipment are with modular structure for fast erection and commissioning. We at Atlas understand the importance of fuel and electricity consumption. Even manpower is very critical and plays a major role in the success of any equipment. We have designed our machines in such a way that the burner helps in maximum fuel savings and all the components used are of reputed make which helps in smooth and efficient operation of this machine.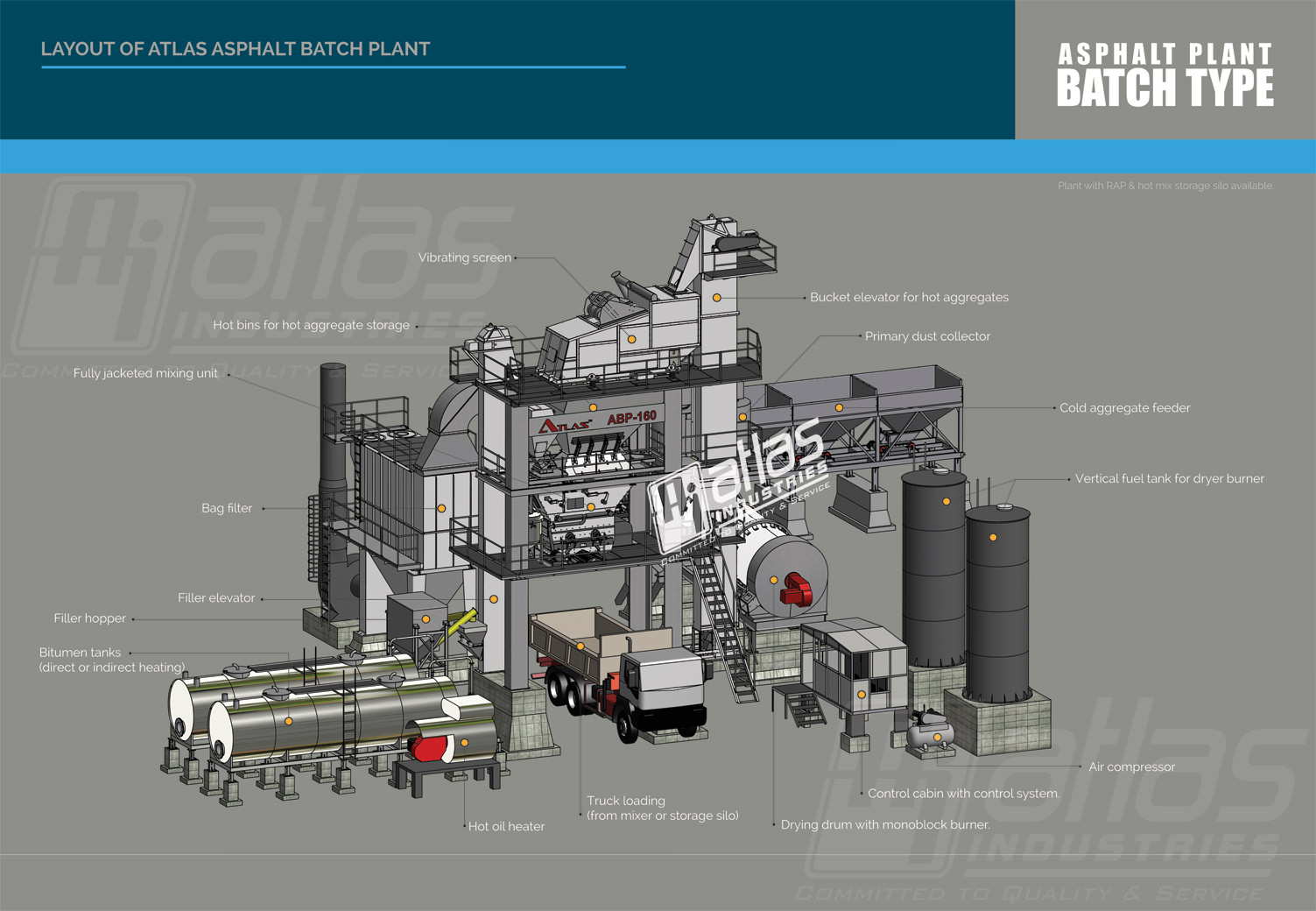 Asphalt Batching Plant Manufacturers
Any asphalt batching plant has to be made with care; the manufacturer has to consider the end user when developing the equipment. When it reaches the site and installation is going on the customer should be please with the overall fit and finish of the material received. At this moment he is not going to use the machine but one glance at the equipment should make him proud of his decision.
We are also successfully installed asphalt batch mix plant in Nigeria, Philippines and Bangladesh.
There are many advantages of our machine supplied to customer in Myanmar:
The design is containerized that means shipping is done in normal and open top containers. There is no need for flat rack container.
This machine is supplied with skid plates for all the units except bitumen tank and fuel tank. This will help reduce the installation time at the site.
The burner supplied with stationary batch asphalt plant is fully automatic modulating type and is compatible with Diesel and LDO. The burner will maintain the set temperature inside the dryer drum.
Drying and mixing unit is chain driven. It is fully insulated with glass-wool and flights are designed to evenly heat the aggregates.
Pre separator will trap bigger dust particles and prevent them from entering the bag filter. There is also mechanism to add this dust into the bottom of the hot aggregate elevator.
Bag filter unit comes with three cleaning rotors at the top for efficient cleaning mechanism. This bag filter is reverse air flow type.
There is also provision to add filler material into the filler weigh hopper.
The vibrating screen is customized as per the requirement of the customer. Motors used for vibration are of reputed make. Screens are rested on 4 springs and the screening unit is also rested on 4 coil type springs.
Four hot bins are provided for individual storage of all materials.
Aggregate weighing system will weigh the aggregates before discharging them into the mixing unit.
Mixing unit is provided with two shafts and each shaft is with planetary speed reducer and motor. This helps in better torque distribution.
The control panel of the tower asphalt plant is advanced and easy to use. The home screen shows all important parameters with nice and colorful display of all important parameters. Touch screen monitor / display makes using the panel very easy.