Case study of a 60-90 tph asphalt drum mixing equipment in Oman
---
Atlas Industries manufactured and supplied one 60-90 tph mobile asphalt drum mix plant in Oman. This plant was supplied to a leading road contractor in Oman and the plant was offered with some customizations as required by the customer.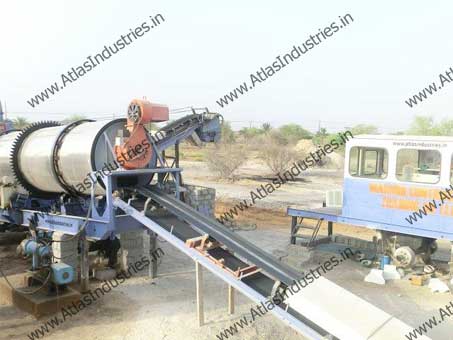 The customer wanted the combined cold aggregate storage to be 56 tons along with a 30 tons mobile bitumen tank, pollution control with double venture nozzles, 4000 liters fuel tank for dryer burner and PLC panel for operating the mobile asphalt mixer.
All the customizations were taken in account before making the plant and the plant components had to be built to fit into 40 ft containers. The cold aggregate feeder was mobile with two axles, drying and mixing drum was mobile with two axles, bitumen tank of 30 tons was on two axles, one chassis carried cabin, fuel tank for dryer burner and mineral filler on single axle. The wet dust collector was on a separate chassis on a single axle with some space for generator. All the units were equipped with internal cabling and were interconnected by junction box making the plant mobile. Helical gears (in-line type) were used in all the conveyors.
Atlas Industries supported the customer to get the plant installed in Oman and two technicians visited the site in Oman to help customer with the erection of the equipment in Oman.
To view photos of installed plant, click here