Concrete batching plant for Philippines
---
There are many batching plant manufacturers in India but what sets Atlas apart from the rest is our ability to fully understand the customer's requirement and delivering the goods as per the same. It is easy to manufacture a product and try and sell the same to customer. Many try to sell forcefully, means they will try and sell things to a customer who they do not have knowledge of or something which will not be useful to them. We at Atlas have a different policy we do not oversell or do not sell any accessory to a customer which will not make sense to them. This post highlights such details and how we give the correct guidance to customer so that they can make best use of the money that they invest in their concrete batching plant.
The customer basically is a civil contractor in the Philippines. Almost 40 years ago they had started as a small company that used to supply gravel and sand. Now they are a strong name in Philippines for several concrete products like Ready mix concrete, masonry products, fences that are precast, etc. if we talk about paving blocks manufacturing, this company is one of the biggest in Philippines. They are very much capable of supplying to several large scale projects simultaneously. This plant was going to be there for their new residential project.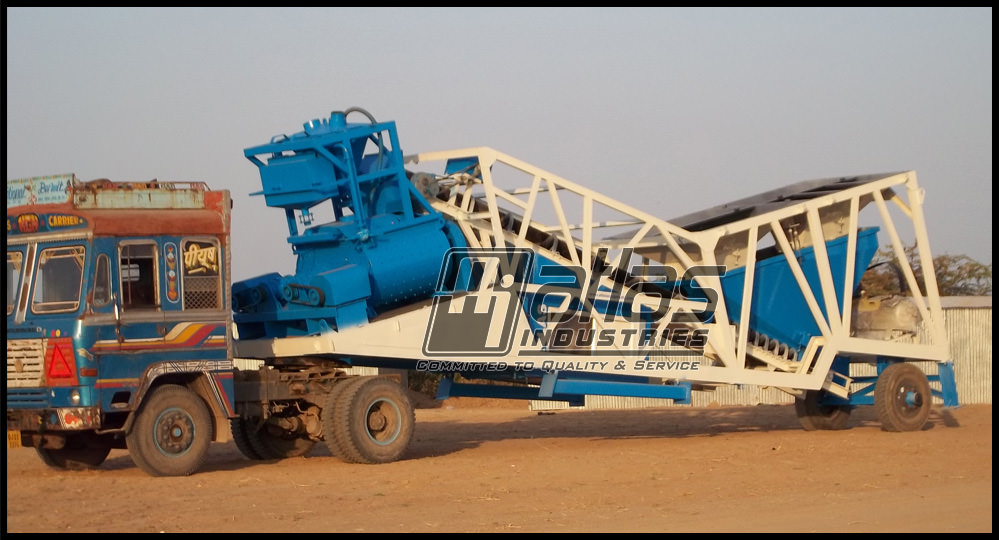 Since the time they contacted our local agency partner in Philippines, they were about to place orders for two units of mobile concrete batching plants. The capacity they required was more or less the same as 30 cu. m. per hour. Our partner in Philippines met them and explained them the product, its features, its design. It was a bit easy for him to do the same because we already had similar design equipment and of same capacity 30 m3/hr. installed and running in Philippines. Customer was shown site installation photos and explained them the items that were offered with the machine that is already running. From India I was in touch with the customer and cleared their few doubts so that they could get started.
It was very much clear from the beginning that they had urgency as they were running a bit late for their project. During that time it was raining in most parts of Gujarat, India and luckily we had a mobile concrete batching plant of capacity 30 cbm/hr. ready at our factory. This unit was preordered by a customer but due to monsoons they were delaying the delivery of the same. I offered them the ready plant provided they paid in full so that we could do immediately the ex-factory delivery and make another one for the Indian customer.
For second machine they wanted to get an inbuilt silo done, I told them that this will not be a good idea since this will attract a lot of shipping cost and would be very expensive by the time the equipment lands at the site. Some of the reasons that I gave them to avoid the concrete mixer with inbuilt silo are as below:
Inbuilt silo offers only 18 tons of storage compared to 50 tons in a vertical cement silo
The equipment with inbuilt silo is much wider, longer and taller. This means that the transportation costs are high involving a flat rack container compared to open top container.
Local transportation will be a bit difficult and involving high cost due to over dimensional nature of the cargo.
50 tons cement silo can be easily transported in a separate 40 ft container and similarly can also be shifted to another site easily.
This cement silo can also be removed and used with other plant when required.
For us it was an advantage if the customer opted for inbuilt silo along with the mobile concrete mixing plant, but we preferred to educate them with above points and advice them to go for separate silo. We also told them that just for making money we will not make you pay for items that you will regret later on.
Customer then deposits advance payment 50% and we start the manufacturing of the equipment. Contract copy with all the relevant details were sent to the customer for his approval on the same. Along with the contract copy we sent initial drawing of the plant so that they can have an idea of the plant's position and can prepare in advance for preparations at the site.
The configuration they ordered was:
Atlas 30 m3/hr. mobile concrete plant.
1500 kgs capacity cement hopper with screw conveyor and 82 kVA generator.
Equipment also included 4 bins for aggregates, weighing and transfer conveyor for aggregates, weighing hoppers for water, cement and ad-mixer.
Mixing unit supplied was twin shaft mixer.
PLC control panel is inside a foldable control cabin.
After few days the customer's key partner visited us in India along with our partner from Philippines. We went to a plant that was already installed and then went to see our manufacturing units where we had their mobile concrete mixer machine ready. Machine was inspected and customer was happy.
However there were few questions / queries that need to be answered.
1. Customer was not keen to do excavation for entry of the transit mixer.
We explained them why it is better to excavate for entry of transit mixer by telling that if we do not excavate the entire plant has to be taken at a height.
This means more concrete is required for a longer and taller ramp and also for concrete foundation blocks.
Cement hopper will also be at a height: this will create difficulty in feeding with cement bags as cement will have to be taken at height for feeding.
A platform will be required to be built surrounding the hopper and this platform will be taller than usual. More energy will have to be spent by labours for cement feeding.
Also showed them photo of platform with normal hopper installed at a plant with excavation for transit mixer.
2. Customer wanted to know more about 40 tons horizontal silo that we had proposed to them.
Showed them the mobile concrete plant layout with horizontal silo.
Explained the dimensions, features, working and structure of horizontal silo.
Also explained why this will be better than a inbuilt silo giving reason that this will hold more cement and will be economical to own and transport.
Customer can also use cement hopper along with the horizontal silo.
Also told customer that a higher capacity genset will be required 100 kVA if they use the horizontal silo along with the cement hopper.
HERE IS THE HORIZONTAL SILO WITH PLANT LAYOUT AS PROPOSED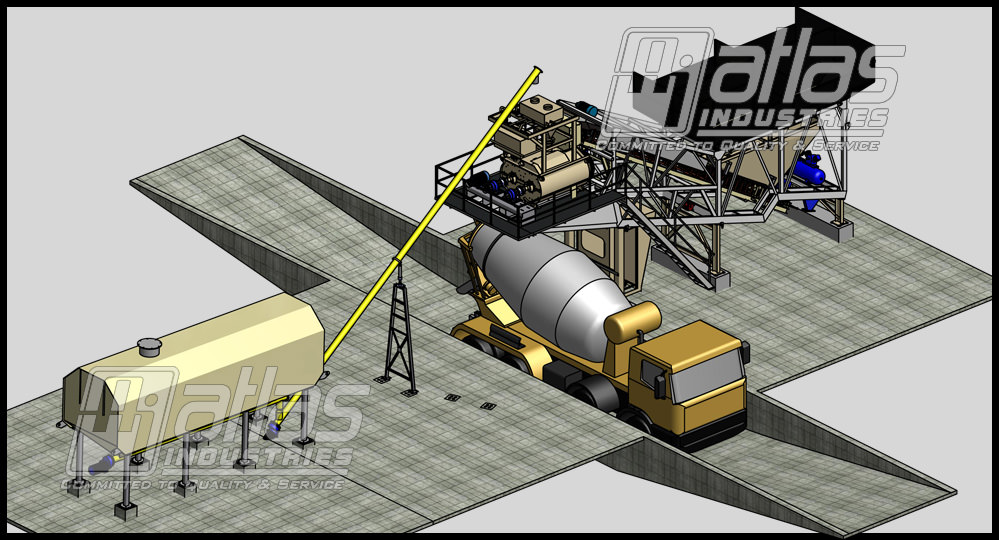 3. Important feedback related to foundation for the plant at site was given to us as per their requirement.
Only one ramp is required instead of proposed two ramps by Atlas – POSSIBLE.
Due to space restrictions at the site, cement hopper to be placed near the ramp so that the other side is free – POSSIBLE.
Entry of the transit mixer will be reverse – POSSIBLE.
We suggested them to keep few spare parts for both the plants and use them as and when required and also sent the layout after 3 days.
For their satisfaction and comparison, we gave them concrete mixing plant layout with two options with excavation and without excavation for the transit mixer.
HERE ARE THE TWO LAYOUTS DESIGNS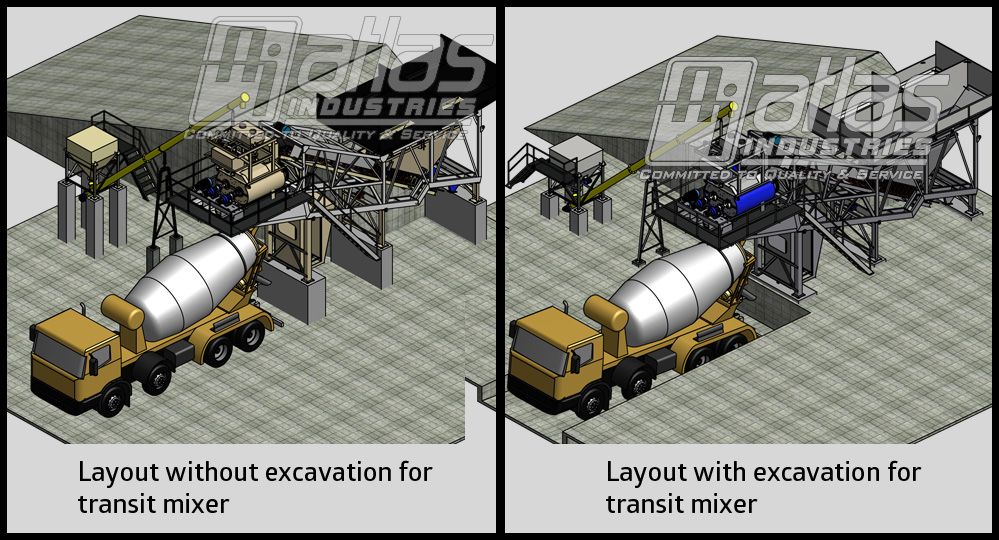 By this time, we received the balance payment in our account and the machinery was loaded into the container at our factory. Sent some photos of loading to the customer the next day.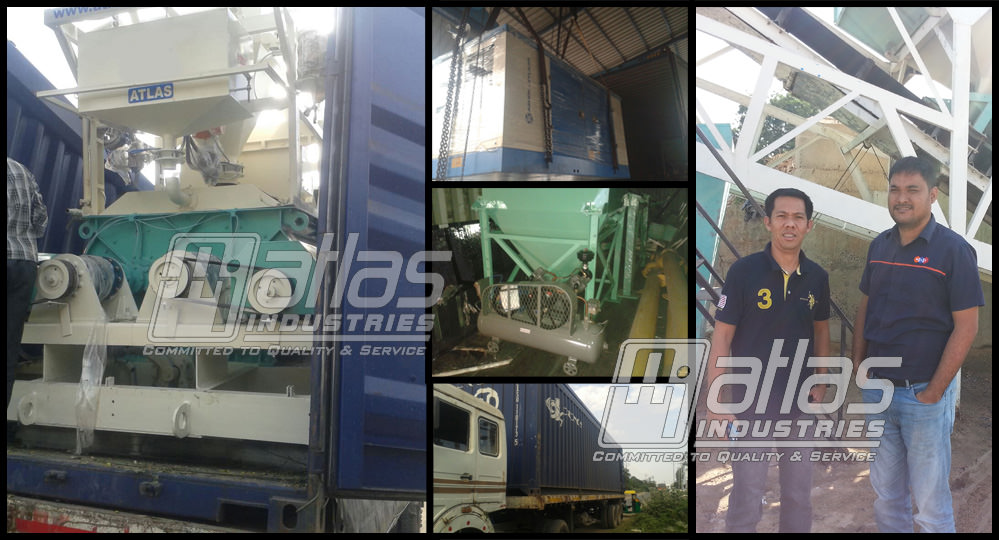 Also the advance payment for the second plant is confirmed by the customer for their second machine. Such is the trust and confidence that we are able to give to the customer that they immediately placed order for another unit by just looking at the fist unit at our factory.
The second plant is under production now and is expected to be completed in the next 20-25 days, we hope the customer visits us again so that we can get chance to meet them.