STOP! Read this before buying asphalt drum mix plant.
---
Asphalt drum mix plants are of two types parallel flow and counter flow. In parallel flow type asphalt plants, the drying and mixing is done in same drum. In counter flow asphalt plants, drying and mixing is separate.
The difference in the processes of the parallel flow and counter flow asphalt plants start here.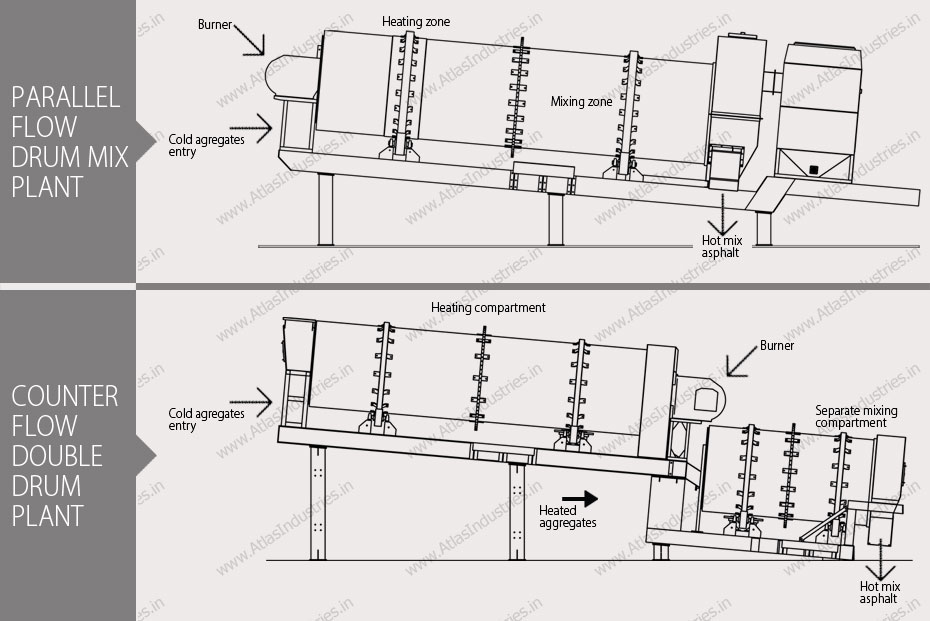 In single drum plant direction of the flame & flow of aggregates is parallel (parallel flow) hence it is less effective and consumes more fuel.In double drum asphalt plant, the direction of burner flame and flow of aggregates is opposite – counterflow asphalt palnt. This counter flow type heating ensures that the energy of the burner is used efficiently and is more effective in removal of moisture.
Atlas manufactures both the types of drum mix plants and the counter flow type drum mix plant comes with a separate mixing drum.
In single drum plant, heating & mixing action takes place in single drum. The exhaust of dust is after mixing process & hence a good quality hot mix is difficult to achieve.
In double drum asphalt mixer, the drying & mixing process takes place in separate chambers. The aggregate dust is absorbed by the pollution control device suction which is at the inlet of aggregates in the drying drum. This allows clean & dust free aggregates to enter the mixing drum. This also ensures better mix quality compared to single drum asphalt plant.
In single
drum mix asphalt plant
, the temperature of hot aggregates cannot be controlled as drying & mixing process take place in single compartment.
In double drum plant,Temperature of the aggregates can also be controlled before its moves to mixing compartment.
An increase in the burner flame may of mix quality. This may also lead to fire. This burnt hot mix material may cause burning of the load out conveyor belt at the discharge end of drum.
Heating & mixing process takes place in separate chambers. The burner flame is nowhere in contact with the asphalt, other valuable liquids or additives. In double drum asphalt plant, asphalt is not exposed to extreme temperatures.
Video of counterflow asphalt plant – double drum type.

Wastage is zero in the counterflow type asphalt plant because each and every material weighed is present in the final output.
The discharge of the hot mix material can be directly into a truck or it can be stored in hot mix storage silos provided with the asphalt plant.