People working in different sectors face different types of hazards related to work site safety. Someone who is working at an office can be injurious by slipping or falling. Someone who is at an industrial work place can get burnt, hurt, fall from a height, etc. The degree and type of injury will depend on the work place and the nature of job that one is involved in. There are lots of potential hazards related to any place.
Why should we pay attention to work safety?
We should pay attention to work safety because it will help reduce or eliminate chances if injury and make work place safer.
Proper housekeeping can eliminate a lot of hazards and help to get a job done perfectly. Poor housekeeping is the best invitation to unwanted hazards and injuries. It all depends on the mentality of people responsible for the same. It is we who are responsible here because it is our work place and we have to raise out voice or concern so that things can be heard. We need to identify and eliminate potential hazards before they aggravate. Housekeeping is often misunderstood as cleanliness; it is a system which is much more than that. It is keeping work place clean and also organized. If we start ignoring small things that do not matter, they eventually take shape of bigger things that damage.
SOME NUMBERS:
As per the health and safety executive site, the number and rate of injury of workers has come down in the last 10 years. It is good to note that less than half of workers were fatally injured in 2013/14 as compared to 20 years ago. This also means that as many as 133 workers lost their lives. Rate of fatal injury is 0.44 deaths per 100,000 workers. Self reported non-fatal injuries have been severely declining and they are showing signs of leveling off.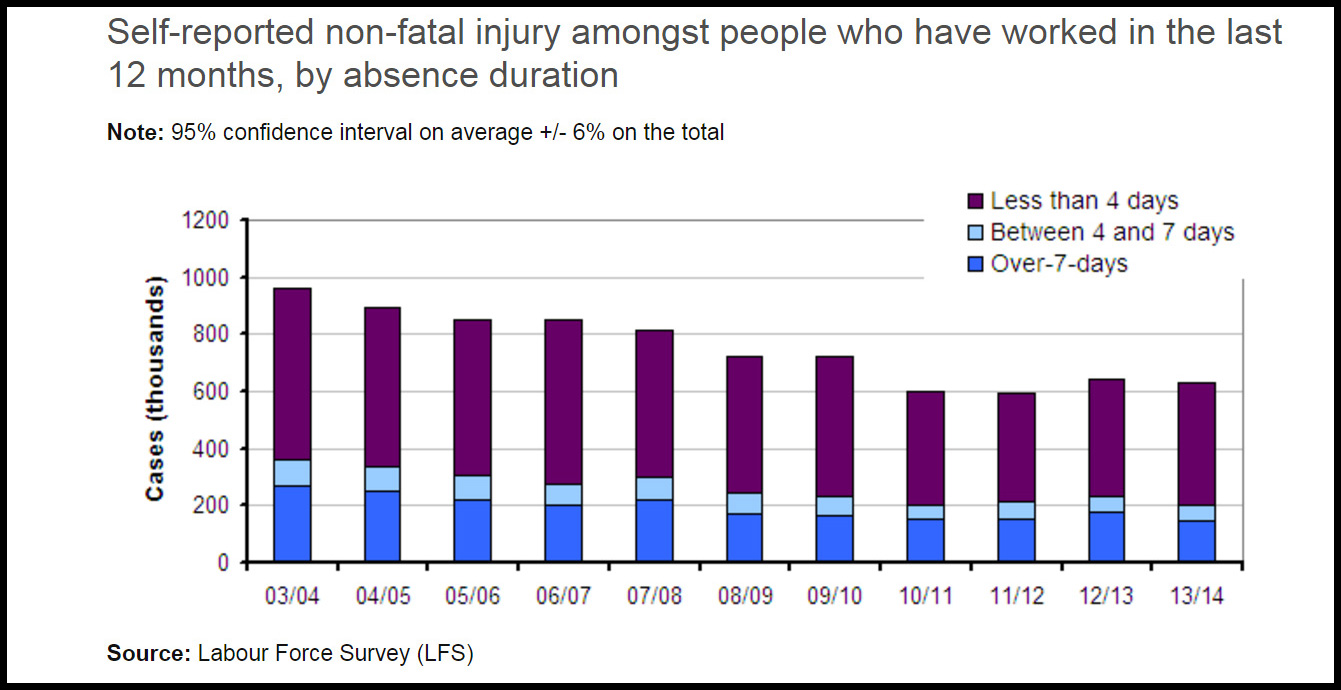 Industries involved
There are some industries that carry high risk factor whereas there are some industries which have a very low risk factor. The extent of injury can also vary from industry to industry. If you are working at an office so chances of high risk injury are low compared to the industries like construction, manufacturing.
Kinds of injuries
Injuries can vary from slipping from a height or from a slippery floor. The impact and injury of both the fall can be different but both of them are termed as an injury. In some case poor housekeeping can be a grave cause of serious injury. Like a ladder or stool placed at an inconvenient place can cause harm. Likewise there can be continuous suffocation of injury caused due to machinery that can emit hazardous gases or emit loud noise.
Injuries can be caused by trips, slips, falls, vehicle collisions, exposure to harmful gases or noise, repetitive motion, fires, over exertion, struck, obstructions, spillage, burns, electric shock, etc.
BENEFITS OF HAVING A HOUSE KEEPING PRACTICE
If a proper housekeeping policy is in place it can result in many advantages like:
Reduced handling which can result in easy availability and flow of materials.
Lesser accidents and lesser downtime related to accidents.
Decreased fire hazards.
Low exposure of dust, harmful vapours, etc to the workers.
Better managed equipments result in more uptime and less accidents.
More efficient and clean equipment management practice.
More efficient use of space.
Better hygiene leading to improved health.
Improved productivity and confidence in workers.
WHAT CAN BE DONE TO AVOID INJURIES AT WORK PLACE?
Inspection at regular intervals:
Walking through your work site is important method to identify any potential hazard before it occurs. Many times it becomes important to just walk through the floor and identifying hazards that may take place due to the current situation. One can take immediate action to eliminate the same or write down the hazards and action plan to eliminate the same.
Identify and eliminate any hazard:
It is important to store and label materials and store them at a place where the risk of hazard is minimum. Prepare material handling sheet and handling precautions for each material that may be a hazard.
Maintaining cleanliness:
It is very important to maintain cleanliness at all times. Dust and dirt have to be cleaned regularly to maintain adequate hygiene. Vacuum cleaners can be used to clean dust and dirt immediately. Special vacuum cleaners are also available for removing hazardous substances.
Inspect all tools and equipment and update them.
Tool housekeeping is a very important aspect. It helps to identify any potential hazards in advance. All the tools lying on the floor or at a place where they are not used frequently should be cleaned and inspected regularly. It is also important that workers report damage tool immediately so that care of the same can be taken.
Use of personal protective equipment (PPE)
This is a very important part. If your job demands wearing of personal protective equipment like helmet, mask, gloves, etc it must be worn at all times. Even visitors at your site should be compulsory made to wear PPE
Maintaining light and cleanliness
Low light levels are dangerous as they will not allow to spot potential hazards. It is important to fix lights and provide adequate lightening to avoid accidents.
Making your concern heard before it is late
If you spot a hazard make sure that you report it immediately. Making concerns heard immediately will help take preventive action. It is very important to be very active and alert for unsafe equipment, unsafe premises, inadequately maintained equipment, bad work practice, misplaced equipment, lack of sufficient information on an equipment or process. It is important to be alert because in some cases hazards may not lead to accidents but illness.
Involve yourself in the process of safety
It is important for an organization to have a responsible health and safety officer in place, whatever concerns related to safety should be addressed to him and he should have the ability and all the rights to handle the concerns properly. He should also have a record of all the equipment and its maintenance schedule, he should be responsible for induct training, he is the contact point and helps in effective hygiene and work place housekeeping.
Waste disposal
Waste disposal is an important element of safety management. It is important to separate materials that go to scrap from the material that can be recycled.
Regular maintenance
Regularly maintaining the work place is important because it will help eliminate any potential hazards. Also it will ensure that every nook and corner is being visited everyday and any kind of leakage or accident can be prevented.
Planned storage
We have many times heard of accidents that occur when unwanted things are obstructing your way. Make sure that unwanted things are scraped / recycled or put away till they have to be used. When you don't want to use a thing and the same keeps obstructing your way many times in a day it gets very frustrating.
Reporting anything before an accident.
It is very necessary to have active and vigilant workforce. People who are constantly moving around the workplace are best observers of anything that may go wrong. If things are reported on time, it can save a lot of time, money and more importantly prevent a hazard from occurring.
Having and implementing a safety plan.
Safety plan is a critical factor. It helps to identify potential hazards and also helps to segregate items that are not in use. Safety plan also helps to train people and help develop safety attitude.
Having a safety attitude
Having a safety attitude is very important because each and every employee will be constantly moving around and hence there will be many eyes that may be looking for loopholes or potential accidents. They will report immediately and prevent any accidents.
Conclusion:
With proper planning and execution of the same, many hazards can be eliminated that can help avoid injury, illness or save lives.