Are you loosing money due to labour problems?
---
Labour problems is an age old problem faced by the contractors worldwide. Initially when construction used to take place, it was mostly labour dependent. There were contractors who would be running behind labours and all the projects would be largely depend on the labour force.
But now the time has changed. Today the contractor does not have a single small project to complete for years. Now a contractor wants to take as many as projects as possible and is capable + willing to complete many projects in fewer time. The competition is more, the profits less and everybody wants to grow at never before speed. All this is possible today because we have the latest equipment and these machines are getting easier to operate and maintain. Construction equipment make you less dependent on labours and allow you fast production in small time. These machines are getting smarter and offer more value to the contractors.
Primitively concrete mixing process used to be manual. This process was time and labour consuming. Each component like aggregate, sand, cement and water was considered roughly and mixed to make ready mixed concrete. Then came the concrete mixers. Practical application of these mixers was simple and it reduced the need for labour but did not focus on the perfectness of the mix material.
What we need today is a mixing unit which can help us make ready mix concrete while helping us to save time and labour. The advanced civil contractor also demands to mix concrete as per different recipes. Different recipes are required for different applications.
For a small contractor, it is advisable to buy a small plant. If the budget does not permit buying a new equipment, there are portable concrete batch plant rental available in the market today. The customer has to approach different manufacturers and understand the available plants and designs available. Different design of the plants are designed for different applications. It is important to know beforehand the application and the site conditions that your plant will be used in. Depending on that data, your application and site details you have to consult a manufacturer and if possible give him all the details so that he can select guide you for a suitable plant.
Usually for a startup contractor, it is advisable to buy a portable concrete plant. These plants come with four bin feeding unit in a 2 x 2 bin layout. This is advantageous because you can feed upto four different types of aggregates. These four types of aggregates are weighed separately as per the data which is set in the control panel. There is a separate weighing for cement, water and additive present with the concrete plant. The mixing is fast and efficient.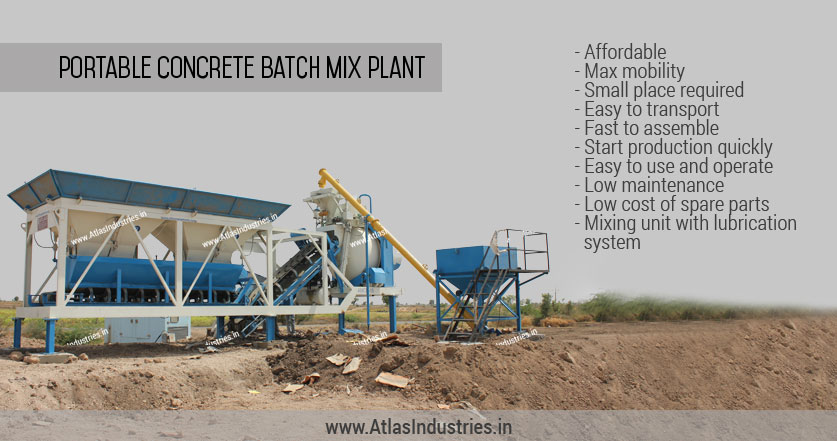 This plant is ideal for small or customers who have just started their business, due to the reasons below:
1. Plant is affordable even by small contractors.
2. Ideal for contractors who want to shift places more often.
3. Can be set up in a small space.
4. Portable concrete mixer is easy to transport. Can be transported in a single vehicle.
5. Fast to assemble and start production.
6. Lowers the total labour that you will otherwise require.
7. Weighing for 4 aggregates, sand, cement, water and additives.
8. Available across wide capacity ranges: 10 m3/hr. to 25 m3/hr.
9. This plant can be operated by a single operator.
10. Easy to use control panel makes it easy to train many people.
11. Printing facility available.
12. Low on maintenance and reasonably cheaper spare parts last longer.
13. The mixing unit of portable concrete plant comes with centralized lubrication system which reduces the headache of the operator.