Manufacturer of mini batching plant is best for small to medium sites.  We also for sale small ready mix concrete plants with best price in worldwide. Equipment is designed for universal customer. The compactness of the machine is its USP and it makes it very easy to man oeuvre the same in cramped areas. The machine is small but powerful. There are two models available in the capacity 8-9 m3/hr. and 12-13 m3/hr. Both the designs have the same advantage of small size and mobility.
There will be times when your job will demand quality concrete at remote sites. At such sites it will not be possible to shift your bigger concrete machine. Many times even of the shifting is possible it may not be economically feasible to do so. There can be some cases when the job may demand less quantity of concrete. In such a case transferring and setting up a bigger plant may not be a good option.
Atlas is manufacturer of small batching plants in capacities 8-9 m3/hr. and 12-13 m3/hr. – both machines featured with reversible drum mixer. The basic working principle and design of both the machine is the same. The difference is in the size.
Out of these two capacities, the 8-9 m3/hr. machine is available with two options one is electric and one with diesel engine. We have named this machine as RM 800. RM 800 mini concrete machine with total of 20 HP electric motors. The same machine if opted with a diesel engine comes with a strong 25 HP diesel engine. The equipment with diesel engine will be preferred at those sites where electricity will be a problem. It is an ideal machine with no fuss and it can be made to produce quality concrete instantly.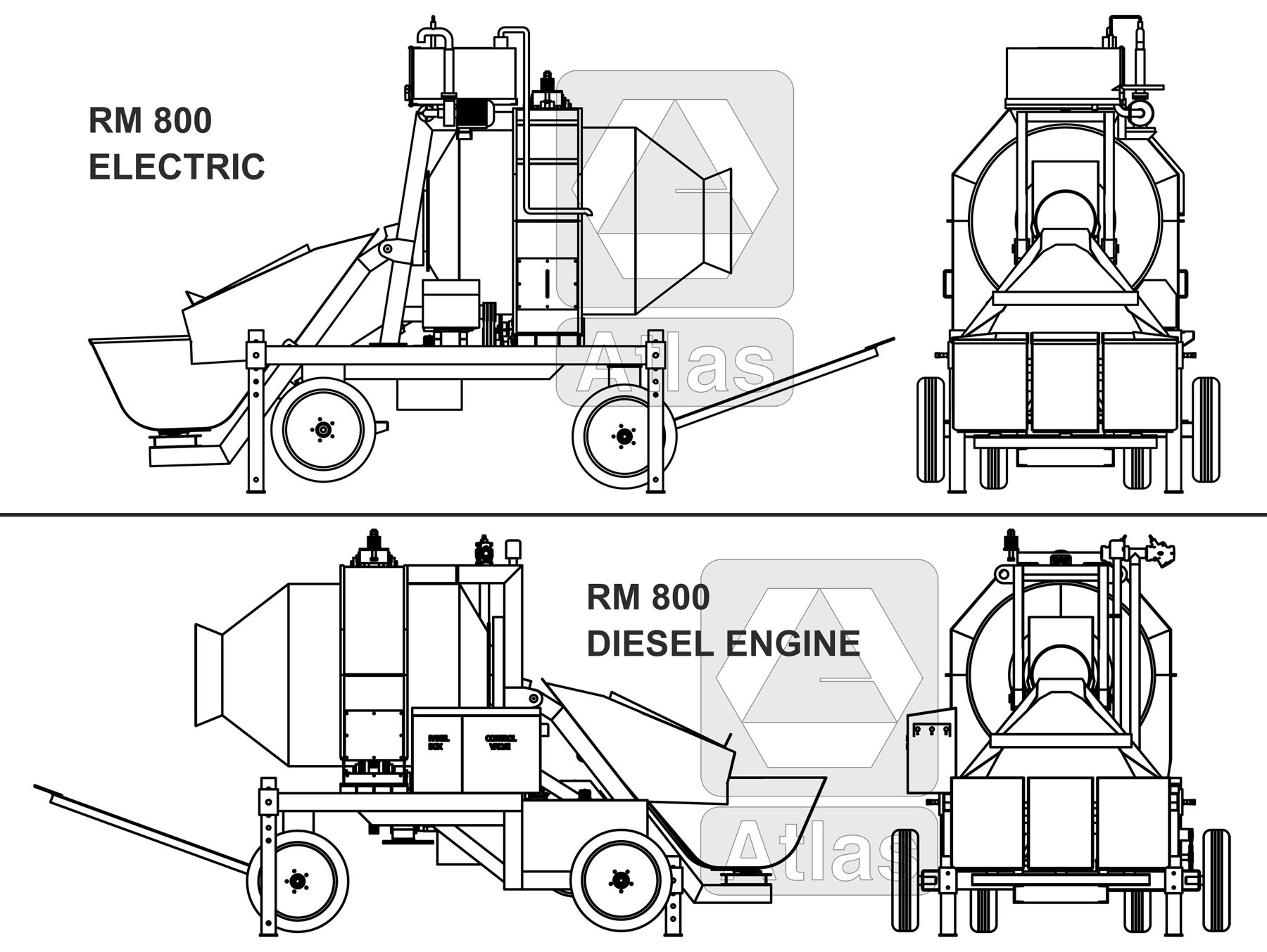 Mini batch mix plant components
The components of mini batch mix plant are all on a single chassis. This makes this equipment easy to transport and maintain. The parts can be customized and that will be having some impact on the small RMC plant price. Atlas is successfully installed batching plant in Philippines, Bangladesh and Nigeria.
The components are as below:
Feeder bins: The equipment with standard configuration comes with 3 feeder bins. Each of these bins will hold different material. Each of these bins is equipped with individual load cells under each bin. The equipment can also be customized to go with two or one bin. Usually when the mini mixer is with 3 bins each of the bins will have to hold individual material. One bin takes aggregates, second bin takes sand and third bin will hold cement.
Mixing drum: The mini concrete batch plant comes with reversible drum type mixing unit. This is a non tilting type mixer. It is very efficient mixer for mixing concrete. The rotary action of the drum allows proper mixing of the contents inside. As the mixer moves in clockwise direction mixing is done. As the mixer moves in anti-clockwise direction discharge is done. Good mixing in a short time is the highlight of the mixer.
Power: Powering the machine is a strong diesel engine or electric motors. The total power is 20 HP for plant with electric motors. Plant with diesel engine is with single diesel engine. This diesel engine is of 25 HP.
Water tank: Suitable capacity of water tank is suspended over the mixing unit. Water flows from a nearby water source to the water tank by use of a pump. The water tank is suspended on load cell. Load cell based weighing will help to add required water in to the mixing drum. The water flows from water tank to the mixing drum by gravity.
Control panel: Control panel is enclosed inside a small lockable panel. It houses all important buttons for functioning of the plant.
Lubrication: To keep the mini concrete plant in good condition there is facility for centralized lubrication. This system is easy to operate and is very effective. By just pulling a hand lever all the moving parts are lubricated at a single go. This easy to use system makes maintenance part very easy.
Working of mini concrete batch plant for sale
Working of mini concrete batch plant is very simple. The plant is for sale with all important parts laid out perfectly so that they work to give good quality ready mix material.
Feeding is manual in this machine. The weight of material is entered in the control panel. We have to continuously add the material into the bin. As soon as the set weight is achieved light on the control panel will glow signalling to stop the feeding. After this the feeder bins can be lifted up so that the material inside can flow into the mixing unit. At this point of time the drum is continuously rotating which helps in proper and uniform mixing. The water and additives are discharged directly into the mixer once they are weighed by the respective weigh units. Once inside the mixing drum all the contents are thoroughly mixed as the drum is rotating in clockwise direction. We then have to stop the drum and make it move in anti clockwise direction. As the drum starts rotating the other way round the material gets discharged.
All these functions are easily controlled by the control panel which is very easy to use with little training.