Reasons to buy Atlas Asphalt drum mix plant
---
We are into the business of manufacturing construction machinery. The management and workers at Atlas love to put a lot of efforts behind the manufacturing and service required during the life cycle of machines manufactured by us. We understand + value your emotions and hard earned money which goes into buying equipment. That is the reason which allows us to manufacture good civil and road construction equipment which can serve our loved clients for years and help them make money. Having said this I would also like to emphasize that the construction equipment manufactured by us will not make a big hole in your pocket during the buying process. We have put in a lot of time, efforts and money to make sure that we give our customers an experience more than equipment.
This equipment will soon become your prized possession and machine which will have a special place your yard. We try to manufacture equipment with the best and using the most modern techniques available keeping in mind the maintenance aspect and user friendly aspect of running the equipment. The asphalt mixing machine is crafted by labour force having intensive experience in the field of construction machinery manufacturing.
In this article I am going to highlight some of the benefits of our hot mix asphalt plant and try and present to the readers as to WHY TO BUY AN ATLAS ASPHALT MIXING PLANT?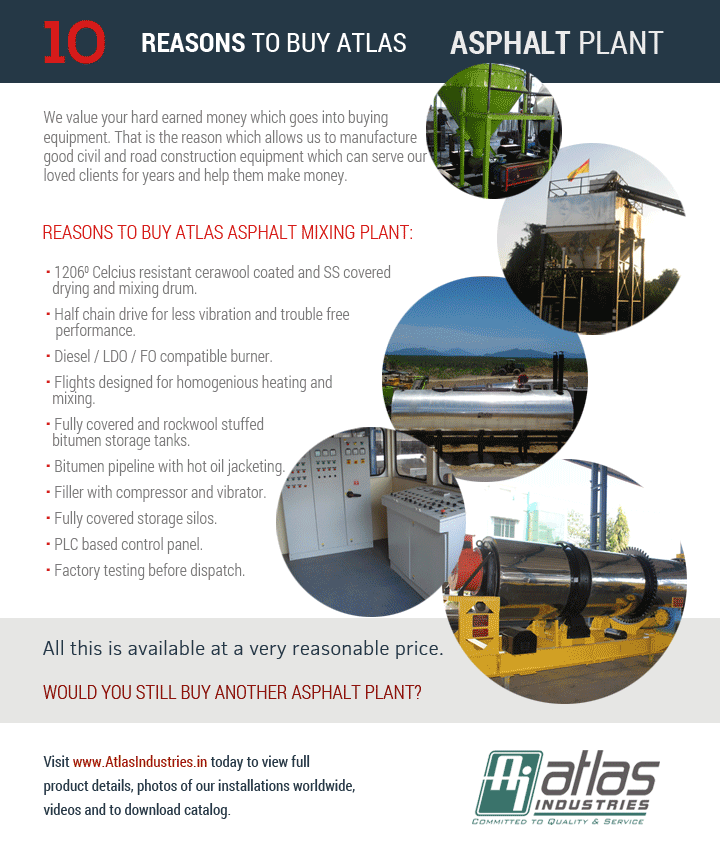 If we start with the visual aspect, the customer has the option to choose between the choices of colours for his loved asphalt making equipment that he has ordered. We will make use of the desired colour and make the equipment look visually appealing and something that the owner will love to see each day with a smile. We want customers to connect with this asphalt making equipment and we also want the customer to experience a complete piece of mind. Your favourite equipment can also be customized with your company logo at different places to indicate your company branding on the equipment.
The drying and mixing drum is stuffed / coated properly with heat resistant cerawool which can resist temperatures up to 1206 degree Celsius. This will help in resisting the heat from being wasted and ultimately outnumber other drums in terms of fuel savings. Apart from this, the cerawool stuffed parts of the drying drum of asphalt mixer is stainless steel coated which also makes the drum look good.
The chain driving the drying and mixing drum is half chain and not full chain. The half chain ensures minimum vibrations and at the same time the springs absorb the unexpected torque easily not allowing the torque to pass through itself. Bit of misalignment in the drum can also be taken care by the springs ensuring trouble free & maintenance free operation for years to come. A lot more maintenance fee concept compared to the full chain drive offered by some other manufacturers.
Dryer drum burner offered with Diesel / LDO compatible. Also available burner compatible with Diesel / LDO and FO, ask us for the same when you place order.
Flights are designed so that the aggregate gets heated and mixed with bitumen and minerals homogenously. This is very important as you don't want dry aggregates to appear in your hot mix asphalt.
The drum and the dust collector openings are properly sealed so that the exhauster does not suck air from outside the drum. This also helps in maintaining desired the air to fuel ratio, one can get optimum fuel saving. This is evident from the non black smoke which is emitted from an Atlas asphalt hot mix plant.
Drying and mixing drum is placed on a heavy chassis which is very less on vibrations. Less vibration means less maintenance.
To ensure our valued customers peace of mind, the drying and mixing drum is dry run at our factory to check for alignment, any unwanted noise, and vibration before being dispatched.
The dry dust collector and wet dust collector work in sync with each other to give pollution control value of 150 mg/Nm3. The openings are sealed so that the exhauster does not absorb air from the openings and gives better dryer burner fuel savings. The fins of exhaust fan are backward curved designed. Thus there is less friction of air with the fan resulting in less noise and less vibrations when the exhauster is moving. The exhauster is tested and run for 15-20 minutes at our factory to ensure the alignment, balancing, unwanted noise and vibration before dispatch.
U shapes or O shaped bitumen tanks supplied with Atlas asphalt drum mixers are covered by rockwool. This covering is of 50 mm thickness and from all the sides of the tank unlike other manufacturers who don't have rockwool covering on the top (of U shaped tanks) leaving a large surface area for heat loss. The rockwool quality is better than the uses by others. Adequate insulation material is stuffed properly from all sides so that it remains in the same position even after years of usage.
The pipelines are hot oil jacketed which means that your operator will be able to clear the bitumen blockages by little physical efforts. We have seen operators complaining as they have to spend time each morning to clear the bitumen blockages from the pipelines manually just because the plant came with bitumen tanks without hot oil jacketing.
Bitumen tanks are visually appealing and compliment the drying and mixing drum as the outer covering of the asphalt storage tank is of a galvanized sheet. All asphalt storage tanks are tested for leakages before dispatch from our factory.
Mineral filler is provided with a compressor and not a blower unit for addition of minerals (additive) in the mixing part of the drum. This unit is also fitted with a vibrating motor so that the material can flow freely. Sometimes minerals with moisture content can block the path and not allow free flow.
Storage silo (if included with the package) manufactured by Atlas is fully insulated from all sides by rockwool.
We use MPCB which protects the motors in better way compared to relay and MCB. PLC panel is advanced and is for maintenance free operation of the plant. Easy to use software by Atlas ensures your operator peace of mind. It is possible to store up to 99 recipes and to run the asphalt mixer in auto and manual modes whenever desired.
          Few notable points:
Drying and mixing drum available with friction drive system.
All the components like gears, motors, bearings used in the manufacturing are standard make and available in most countries.
We follow simple rule of one quality for all. No alteration in quality like some manufacturers.
No spurious materials used in the making of the asphalt mixing machine.
Expect no compromise in production with our asphalt drum mix plant.
Easy to assemble and install.
Wide customization options are available.
Also available portable asphalt mixing plant.
It is also possible to supply a combined drum mix and wet mix plant to do alternate asphalting and wet mixing jobs.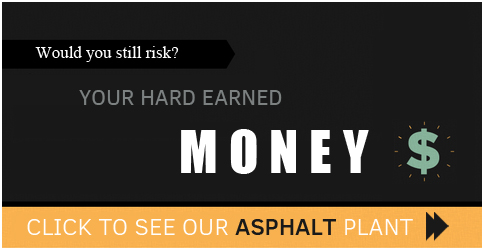 Conclusion:
A low priced plant may be tempting to buy but make sure that you check with the above mentioned points before making your decision. Our plant is designed to make sure that you get best possible fuel savings without compromising on the production. Ultimately you can expect a better hot mix material coming out of your own asphalt concrete plant which you have bought at a very reasonable rate from an experienced Indian manufacturer.