Role of reversible drum in ready mix concrete plants.
---
Ready mix concrete plants are in high demand. There are many contractors willing to buy and set up a unit. The purpose may be to enter into construction or it may be to sell ready mix concrete. Setting up your own plant can be profitable if you have enough work. If the quantity of concrete required is less, one can buy the same from any reliable supplier. Make sure that the supply of concrete that you get is on time and exactly as required. Not getting the material on time can be very tricky for your business and pending job can pile up in no time.
Investing in a ready mix concrete plant of small capacity can be a viable option if you are ready to put that extra effort and take things under your control. By having your own machine, you can have total control of the material quality. It will be hazzle free and you can save a lot of time. Smaller machines usually take up less space, are economical to run, easy to operate, own and maintain. Choose your supplier carefully to ensure that you get the best deal.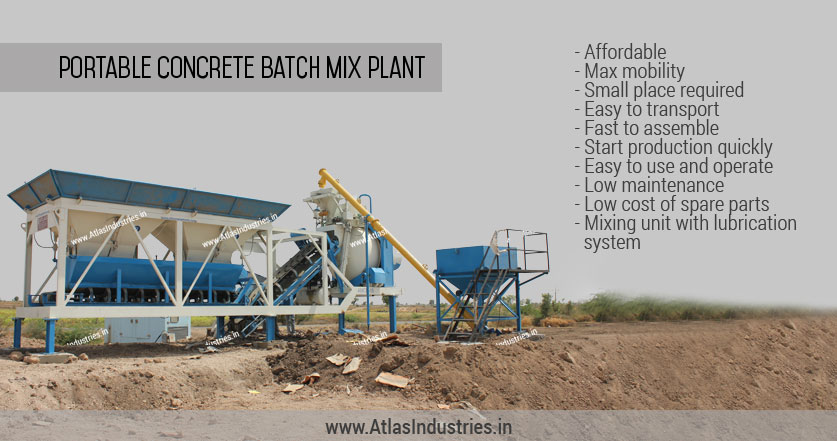 Having spent a long time in the concrete industry and having a wide loyal base of customers, we surely know a thing or two about how to retain customers. Attracting a customer is easy while retaining is hard. It is easy to be a concrete mixer manufacturer selling at low prices to attract customers towards your product but it really takes guts to build a right machine and sell the same and give proper service at the time when the machine is in warranty period and even after the warranty period gets over. It is important to go that extra mile and that extra mile will help retain the customer's trust.
When customers ask us for small batching plants, we usually ask them to go for our AMCB series with reversible drum mixers. The reason is that we have 4 models ranging 10 m3/hr.; 15 m3/hr.; 20 m3/hr. and 25 m3/hr. so when a customer asks for entry level or mid size portable concrete mixer for sale we show them this range.
Some of the advantages are that this design occupies less space, consumes less energy (thanks to the reversible drum mixer), is efficient as a batch plant, easy to use, low initial cost and most importantly low on maintenance. Low on maintenance is because we sell genuine spare parts with low margin unlike other manufacturers.
The highlight of this machine is the mixing unit. It is a reversible drum mixer – non tilting type. Non tilting type means that it lowers any unnecessary efforts to keep it in good condition. The mixer comes with intelligent designed flights that will help in mixing when the mixer is moving in clockwise direction and discharging when the mixer moves in anti-clockwise direction. It is positioned just below the weighing units for water, cement and additives. Aggregates get mixed in the weighing belt just below the feeding unit provided with all the portable concrete plants and get added directly into the mixer. The mixer we supply is powered by gear box and it also equipped with centralized lubrication system for all the moving parts in the mixer. Gear box will help in lowering the vibrations and is also low on maintenance.
Conclusion:
Our commitment to continuously improve the quality of our product keeps us in top gear. It also motivates us to improvise each time and provide customers with best quality construction equipment from India.