Types of road cleaning brooms by Atlas
---
There are a variety of road cleaning equipment available today. Customers demand fast cleaning with minimal use of labours and with an equipment which is simple to use, maintain and easy on the pocket. There are many types of such machines available today which make the task easy for us. The more advanced ones suck the dust from the surface and are the most effective machines for road cleaning.
Atlas Industries manufactures simple sweeper machines which are towable by a tractor and some by any suitable vehicle. These machines are ideal for those road contractors and those customers who are looking for an inexpensive machine which can meet their needs on daily basis. The initial cost of these equipment is very low and the best part is that they are very easy to use and can be maintained by giving little attention. The compact size and low weight of these brooms make them ideal for urban areas and even for the rural locations.
Application can be various including:
Rough surfaces.
Wet mix layer
Finished roads
Paved internal roads.
The two major types of brooms that we have are: Mechanical broom and Hydraulic Broom.
Mechanical broomer is the more simple type featuring a simple design and suitable for paved or unpaved surfaces. It can sweep 2.5 meters in a single run. These brooms can be attached with any suitable vehicle or a tractor to make it work. The attachment feature is simple as it can be quickly attached and removed. It uses nylon or steel or a combination of both the bristles to do the cleaning. There are three slope adjustment jacks which are useful for slope and even for the pressure adjustment as per requirement.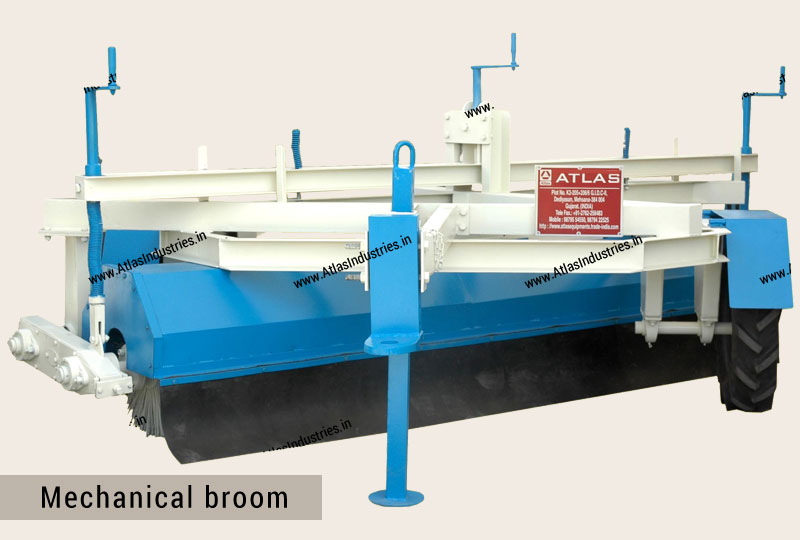 Usually the dust collection is on one side as the broom moves by the vehicle. It does not require any special power source to function as it is bevel gear driven. The working speed is 7-15 km/hr. It is one of the least maintenance equipment for road cleaning.
Hydraulic broom is a bit advanced type compared to the mechanical broom (road sweeper). It comes with a sweeping width of 2.1 meters and best suited for paves surfaces. It has to be attached to the hydraulic drive of the tractor. There are two screw type handles for pressure adjustment and it features nylon / steel or a combination of both the bristles.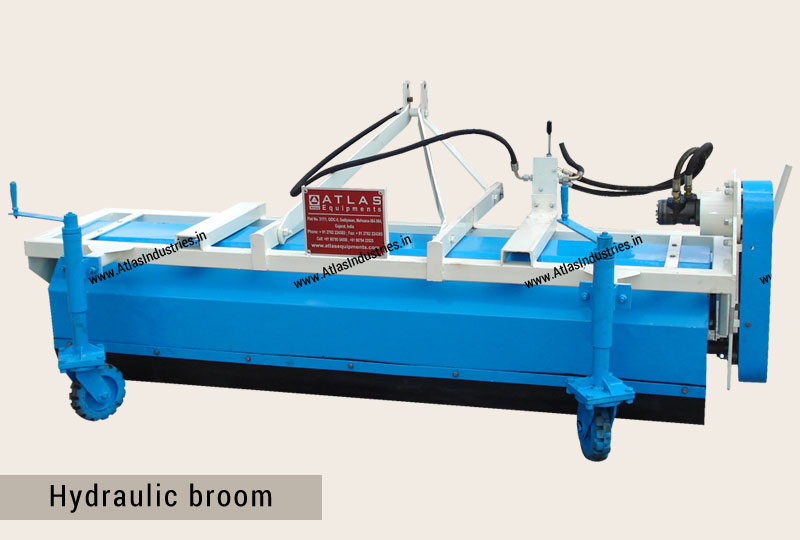 This type comes with a dust cleaning bucket so that dust can be collected on the go as the machines moves. The dust from the bucket can be emptied easily once it gets full. The working speed of the machine is dependent on the speed of the tractor. Slow speed and more pressure on the road will result in collection of even the finer dust particles.
Both the above mentioned types can be fitted with a simple water spraying system so that water can be sprinkled as the cleaning takes place. This is make sure that the dust emitted will be much lower.
Conclusion:
Since the size is compact and the application varied, it requires less efforts to maneuver in the urban traffic. Same applies for the low weigh and easy maintenance design makes the brooms ideal for far away rural areas where spare parts or quality labour can be an issue. With little maintenance and efforts to run these simple machines, an investment in these simple equipment can make wonders. We as quality road sweeper manufacturers have ensured that and not used any special or complicated parts in the brooms and the result is in form of a easy maintenance equipment.