Some of the most dangerous roads of the world
---
Road trips offer ultimate solace and peace of mind. Many people escape the routine of life and enter solitude by driving long distances. Apart from the destination, it is the journey that excites most. For many people it is just packing bags and zooming off over long trips. There are many things to learn from long road trips.
This post highlights some of the most dangerous roads of the world. These roads are pretty bad or say scary and you wish you would not encounter such road in your life time. Some of these roads are extremely dangerous and not recommended. After seeing the photos you will feel that it is better to avoid such roads and go walking.
Death road (Bolivia)
The north Yungas road also known as the death road or road of fate. The length of this road is 61 or 69 kms road. The road leads from La Paz to Coroico in the Yungas region. It is known worldwide for being one of the dangerous roads of the world. In 2006 one estimate stated that 200 to 300 travelers were killed yearly along the road. This number is very high considering the time period of one year.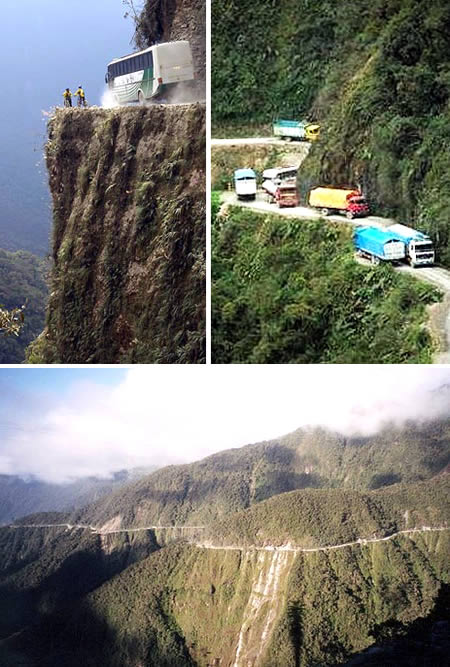 Dalton highway (Alaska)
666 ms long road runs from the Elliott Highway, north of Fairbanks, and ends at Deadhorse near the Arctic Ocean and the Prudhoe Bay oil fields. Its name is James W. Dalton Highway also referred to as Dalton highway (signed as Alaska route 11). This is one isolated highway of you wish to get some isolation from civilization. The reason is that there are only three villages along the entire stretch. You are advised to bring along a survival gear when you attempt to cross the road.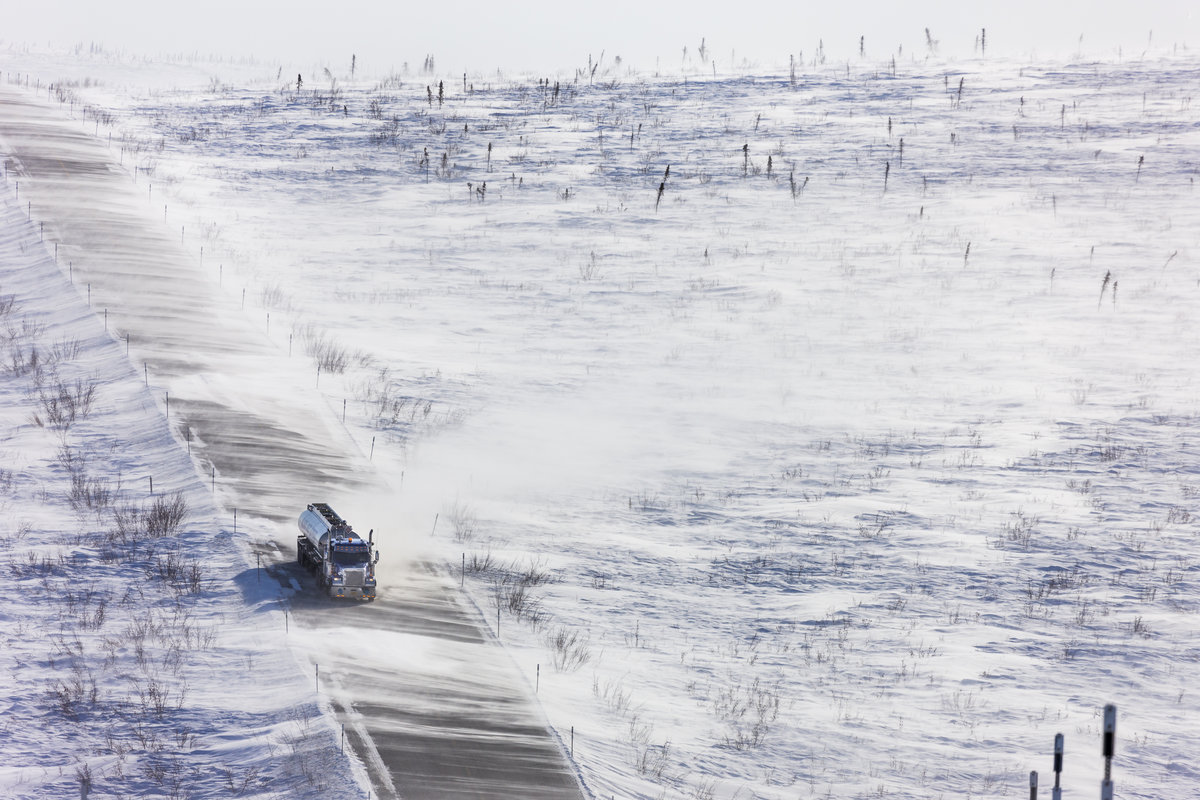 Karakoram Highway (Pakistan)
This highway is one of the highest paved international roads in the world. The road is at highest elevation of 4693 meters (15,397 ft). it connects Sinkiang Uighur of China and Gilgit–Baltistan of Pakistan across the Karakoram mountain range. Very highly prone to landslides and floods this road is very dangerous to travel. The road is unpaved in Pakistan. But there are many sections on this road which are tourist spots.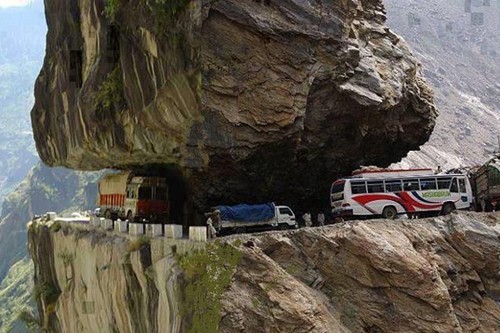 Guoliang Tunnel Road, China
Only 4 meters wide this stretch of 1.2 kms long road required extreme focus and detmination to drive through. It may be one of the most famous tunnels in the world. The tunnel is responsible for connecting the village of Guoliang to the outside through the Taihang Mountains in the Henan province.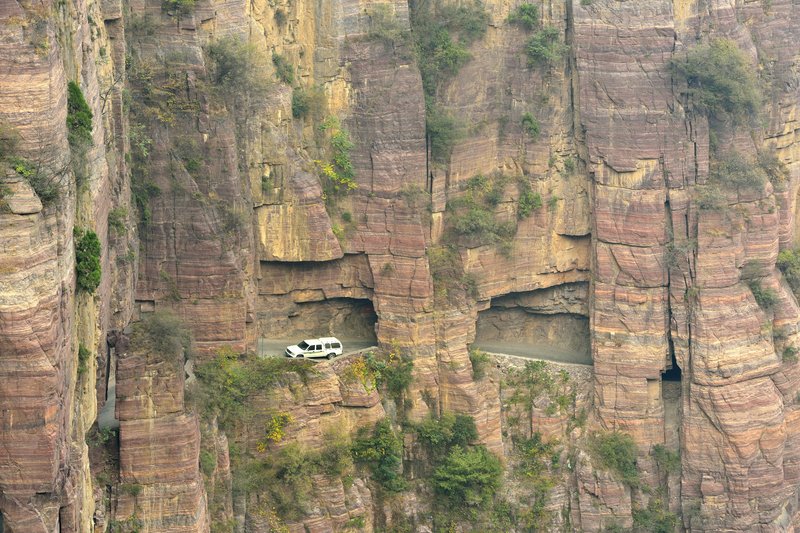 Siberian Road to Yakutsk (Russia)
The A360 Lena Highway in Russia connects Yakutsk with the Trans-Siberian Railway corridor near Skovorodino. During winter (approx. 10 months long) driving here is subjected to heavy snow, ice and reduced visibility. Because of the permafrost this highway is not paved. There is a mud induced traffic jam each time during rains and travelers pass their time looting and beating other travelers.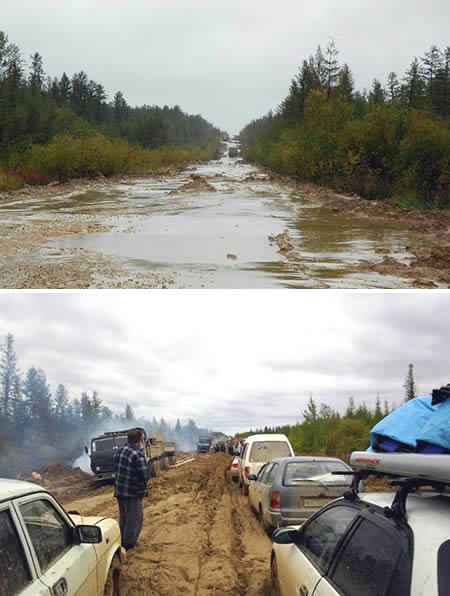 Passage du Gois (France)
Though the length of this road is not impressive but the fact that this road gets flooded twice a day is eye pooping fact. Le Passage de Gois ou Gôa is a passage leading to the island of Noirmoutier in France. It is located between Île de Noirmoutier and Beauvoir-sur-Mer, in the department of Vendée. If you mix up the tide timings then you may have tough times. When the tidal water goes out it leaves the surface slippery.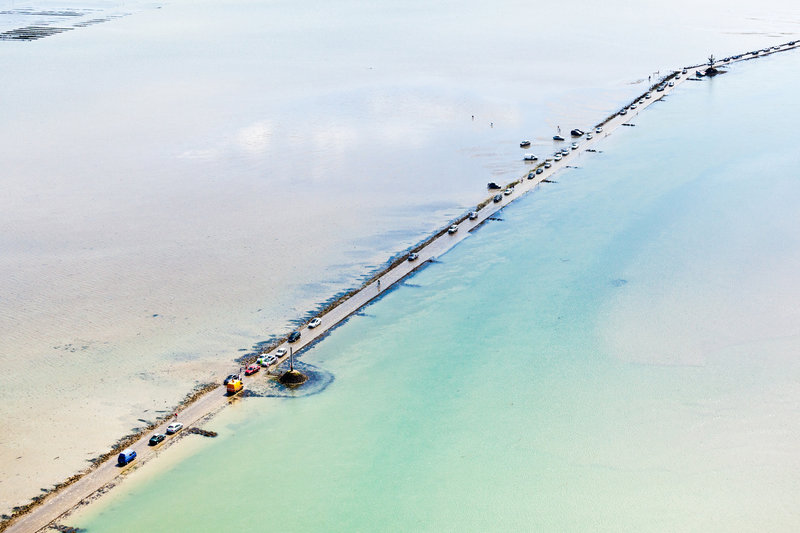 Sichuan-Tibet Highway (China)
With impressive length of 2,142km the Sichuan-Tibet Highway is a high-elevation road that begins in Chengdu of Sichuan on the east and ends at Lhasa in Tibet on the west.
Travelers can enjoy the magnificent and changeable scenery ranging from warm spring to cold and snowing winter, which can easily make you intoxicated. The number of deaths caused by car accidents had nearly doubled in the past 20 years, climbing from 3.9 to 7.6 per 100,000 of the population between 1985 and 2005. Make sure to prepare your vehicle and yourself before this trip.