Advanced mixing unit desired by every concrete plant owner…
---
Atlas Industries manufactures concrete plants which use twin shaft mixers as mixing device.
Twin shaft mixers used in concrete plants are in the range of 0.5 m3 to 6 m3 which is suitable to mix any type of concrete, with aggregates up to 80 mm. Twin Shaft Mixers are designed to ensure reliability and reduced service and maintenance costs.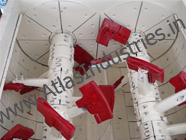 Twin shaft mixers manufactured by Atlas are very accurate and are low on maintenance cost. Mixing tank is covered with special anti-wear liners. These liner plates are easily replaceable. The mixing action in a twin shaft mixer is performed by CI make paddles. These paddles are designed so as to provide optimized mixing results in a short time. All the paddles are bolted onto the mixing arms. These mixing arms are bolted onto the mixing shaft.
This allows easy maintenance and service of the arms and tips of twin shaft mixers. The twin mixing shafts have roller bearings and seals on both the ends. The position of the seals is that it can be easily replaced.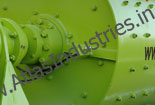 SEMI AUTO GREASING SYSTEM
Twin shaft mixers manufactured by Atlas Industries provides option of greasing all the moving parts of the twin shaft mixer by a single point. By using a grease gun pump, required amount of grease can be pumped to all the points so that the mixer works smoothly.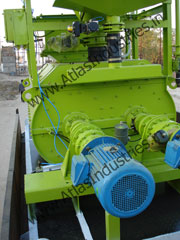 PLANETARY GEAR BOXES
Twin-Shaft mixers by Atlas are not only designed for productivity, but also for long term reliability and low maintenance. Hence the reason we use planetary gear boxes in the twin shaft mixers.
One of the main advantages of using planetary gear boxes is that the these planetary gear boxes are connected to the main shaft with gear coupling which virtually eliminates the transmission of any possible force from the mixing shafts to the reducer output shafts, thus increasing the life of a twin shaft mixer. Bearings for the mixing shafts are installed on separate housing and its position is isolated from the concrete seals, protecting the bearings in case of seal failure and making the maintenance easy.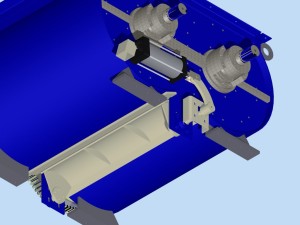 DISCHARGE DOOR
The mixer discharge gate is driven by a pneumatic cylinder. The discharge door has a nylon seal that runs along its full perimeter. The eccentric rotation of the door sector guarantees that the nylon seal is always reached and compressed despite its wear and tear.
Video of Atlas twin shaft mixer
WASHING SYSTEM
With Atlas twin shaft mixers, there is a pipe with high spray jet nozzle for cleaning the mixer at the end of the day.
TOP COVER
The high top cover is equipped with two hinged hatches. The top cover allows easy access to the mixer for an accurate cleaning at the end of the shift. The high top cover also allows easy maintenance during preventive and unscheduled maintenance. This results in a shorter shutdown period of the concrete mixer plant.