Types of asphalt plants – batch plant | drum mix plant
---
Buying an asphalt mixing plant is one of the most important decision for a road construction company. It is very important to be aware of the basic types and capacities of the same available in the market today. This investment is going to prove very crucial for your company and it is important that it lasts and performs as desired. This heavy investment and proper utilization of the same can make wonders for your company. There are instances where quality equipment have proved to be stepping stone to a company's success and there are also instances where companies have failed miserably when they could not put equipment to maximum use or the equipment did not perform as required. It is very important to study the trends in the market and go for a machine accordingly.
Though the basic role of an asphalt plant is to mix different grades of aggregates at elevated temperatures along with bitumen and filler material to make hot mix asphalt – it is not easy as simple as it sounds. The entire process has to be in a controlled environment to get the desired result. Things can go wrong seriously and the end result can be big losses when not taken care of.
So what you can do to ensure that you have a very smooth running and very efficient equipment which serves your purpose rightfully?
There are many kinds of asphalt plants available, what is the right one for you?
The answer is simple – go for a machine which suits your requirement. If you have the correct piece of equipment you have half the job done.
There are few parameters which you can consider as below.
First you have to decide which type to go for. The basic types are batch type and continuous type. Batch type makes HMA in batches and the latter makes HMA in a continuous process. But the difference is not just as simple as this. There is a whole lot of difference in the process of the batching plant vs asphalt drum mixers.
Related: Read our detailed blog comparing batch type and drum type.
At Atlas, we have successfully developed the entire range of asphalt mixing plants ranging from the smallest 20-30 tph continuous type to the 160 tph batch type.
Our range of asphalt batch mix plant starts from as low as 80 tons per hour capacity and we have three capacities lined up. The other two being 120 tph and 160 tph. The basic design here is kept very simple an flawless so that the whole equipment is easy to run and more important maintain. The components include cold aggregate feeders – the total number of which is customizable as per the requirement. Next includes a primary scalping screen and a charging conveyer which takes the aggregates to the drying drum for heat treatment. There is a strong burner to the service here. Aggregates which come out from the other end of the drum are taken to the top of the tower unit by a fully enclosed elevator. This is to reduce the heat loss. Once the aggregates are on top of the tower, they are passed through multiple deck vibrating screen and are separated according to their sizes and after separation they are kept in different chambers prior to weighing. Each aggregate is weighed separately accordingly to its size and it enters the mixing unit along with bitumen. The filler elevator unit takes the material to the separate weighing unit located on top of the batching tower. Bitumen is transferred to its weighing unit prior to disposal to the mixer. Bitumen is stored in separate tanks which also heat them. Heating of bitumen can be direct or indirect heating. There is also a separate silo for storage of dust or filler material.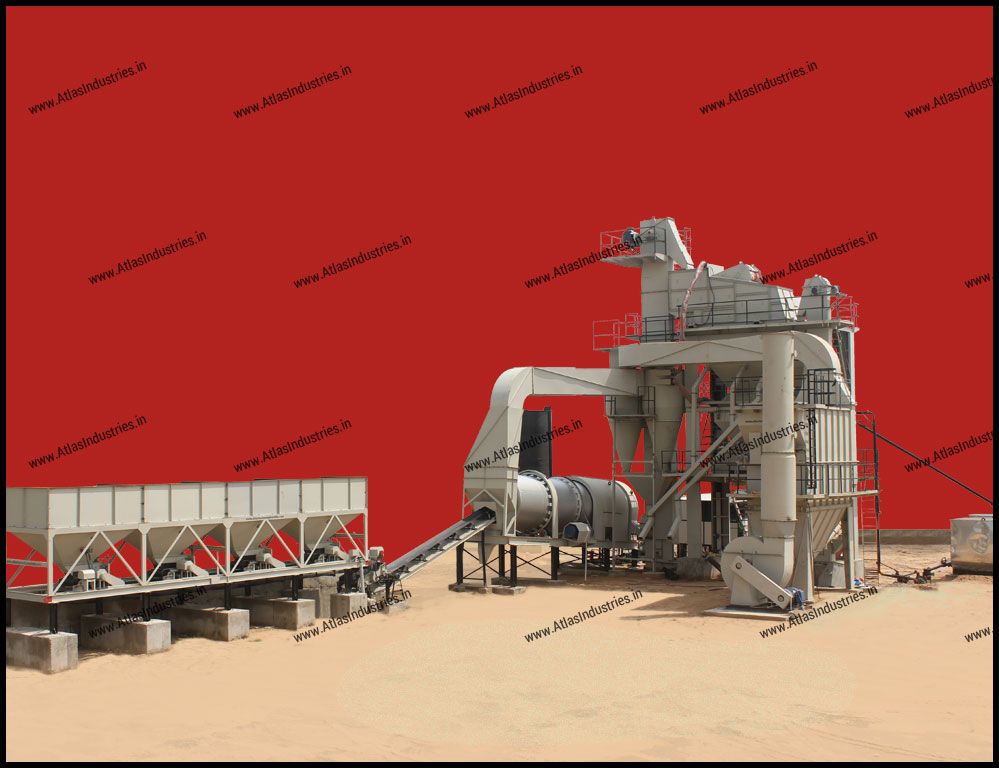 Since the aggregates are separated and weighed individually it is possible to get best quality of hot mix material as per the recipe.
The plant comes with primary pollution control device which is dry cyclone type ready to settle heavy particles once sucked from the dryer. The dust is also treated by a bag filter or a wet scrubber eventually settling most part of the dust. Bag filters are more effective in terms of pollution control when compared to wet scrubbers.
There can also be provision for storage of the hot mix asphalt into a storage silo. The controls of the asphalt batch mix plant is PLC type and the software is designed for user friendly operation.
The modular construction of this plant makes it easy to transport and relocate it in few days. This makes this machine an ideal choice for many.
With low cost of investment and lowest cost of spare parts, this plant offers you fastest ROI.
In the continuous types, we have a total of two models:
Counter flow type.
Parallel flow type.
The counter flow asphalt plant is continuous mixing plant designed for someone looking for better quality of hot mix material and additional savings in fuel compared to the parallel flow type. We offer this model in capacities: 40-60 tph, 60-90 tph and 90-120 tph.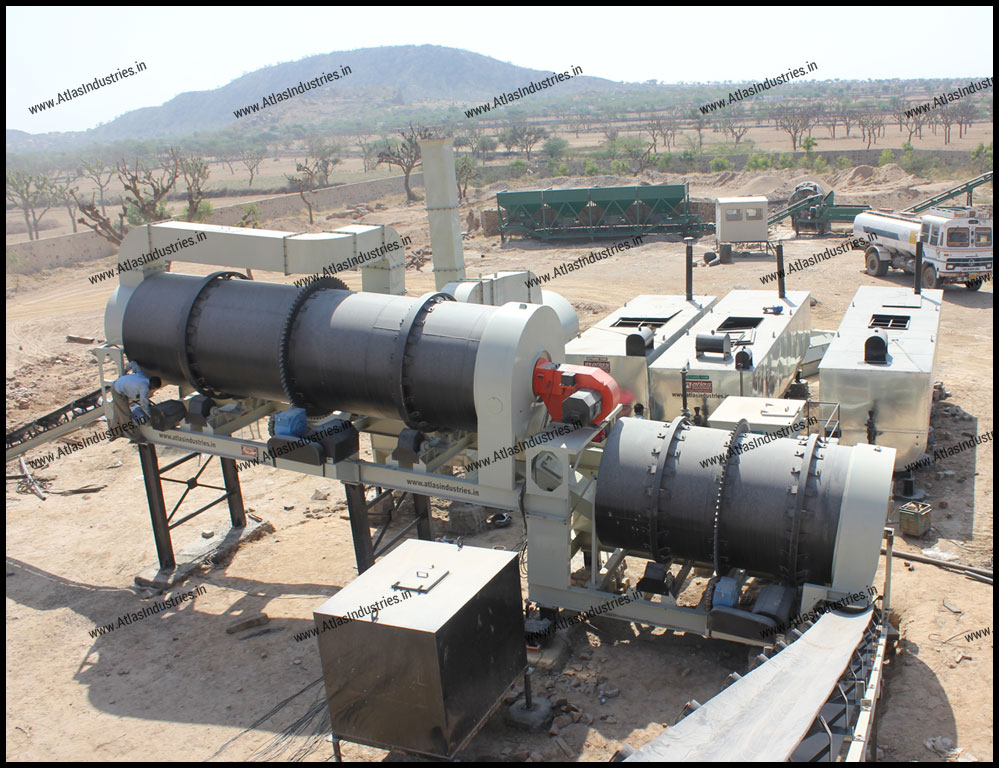 The basic components include cold aggregate feeders, vibrating screen, charging conveyor. Main unit also known as the heart of the plant includes a counter-flow drying unit and a separate mixing unit. The counter flow dryer treats the aggregates to heat evenly as they pass towards the burner in the course of their journey. Separate mixing zone allows separate and better quality of mixing. A separate mixing unit also prevents the valuable liquids to come in contact with direct flame. Here the drying time is extended and so is the mixing time making sure that the end product is quality.
The dust suction is at the entry point of the aggregate into the drum. Dust collected is treated by dry dust collector as a primary pollution control device and then by secondary pollution control device. This secondary pollution device can be either a wet dust collector or a bag filter. Wet dust collectors (wet scrubbers) use water to clean the dust where as the bag filters clean the dry air by letting them pass through the multiple bag filters fitted inside the bag house. Bitumen tanks offered can be with direct or indirect heating systems and different capacities as per requirement. There is also provision to add mineral directly into the mixing unit along with bitumen. Control panel offered is microprocessor based for plants sold in India and PLC type for export plants.
Since the dust suction is done before mixing and the aggregates moves towards the flame, this design gives best results in terms of pollution control, mixing, fuel saving and more importantly better quality of hot mix compared to the parallel flow asphalt plants. It is also possible to produce recycled asphalt by allowing to add recycled asphalt directly into the mixing unit. Storage silos of different capacities are also available.
Also available as mobile type, this plant is for those who want some extra (better HMA, more fuel savings, better pollution control) in a tight budget.
Then we also have the parallel flow type of asphalt drum mix plants which is the most uncomplicated of all and suited for the simplest of the jobs. Available in 4 models in capacities 30-45 tph, 40-60 tph, 60-90 tph and 90-120 tph.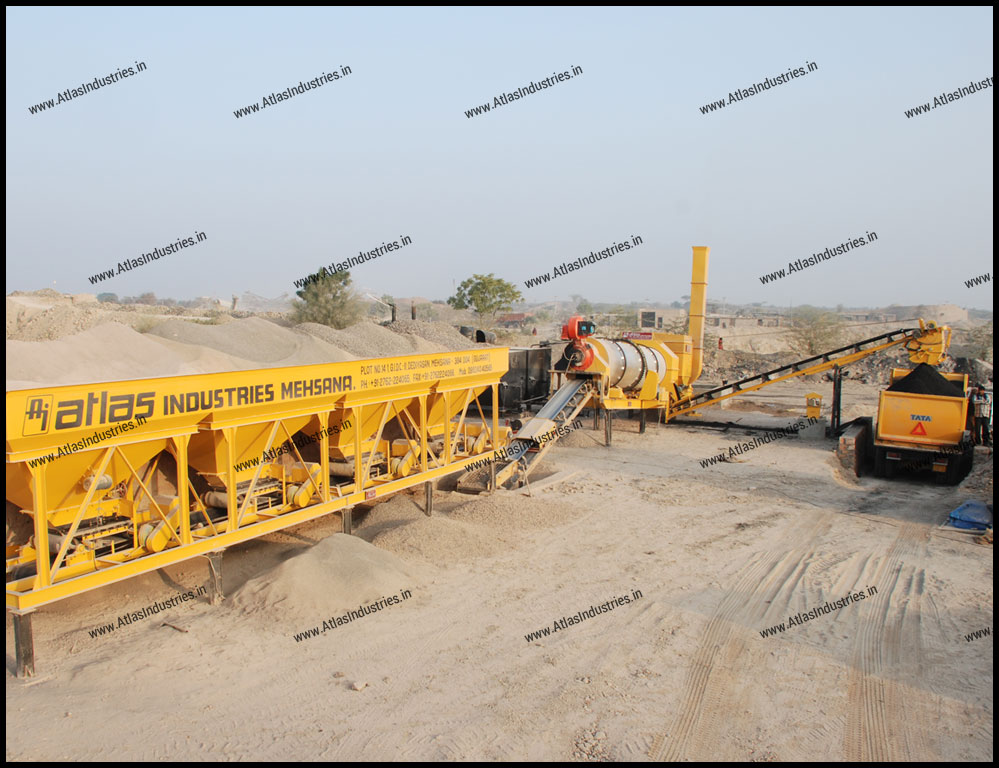 This machine boasts of the simplest design and there are cold feeding bins which can be customized as per requirement. Weighing of aggregates is done in the charging conveyor and then the aggregates move towards the drum. There is a single drum here for heating and mixing of aggregates. The burner flame is towards the flow of aggregates and on the other end, hot aggregates are mixed with bitumen and mineral. The main operation i.e. heating and mixing is done in a single drum.
The plant takes up less space compared to the previous two types and is ideal for quickly producing hot mix asphalt. Provisions to add hot mix silo can also be done and control panel can be microprocessor type or PLC type.
Simple design suitable for customers who want fuss free experience and want to produce in quick time.
If you are looking for a mobile plant in the single drum design (parallel flow type) look no further than this portable asphalt mixing plant. Capacities available are 30-45 tph, 40-60 tph, 60-90 tph an 90-120 tph.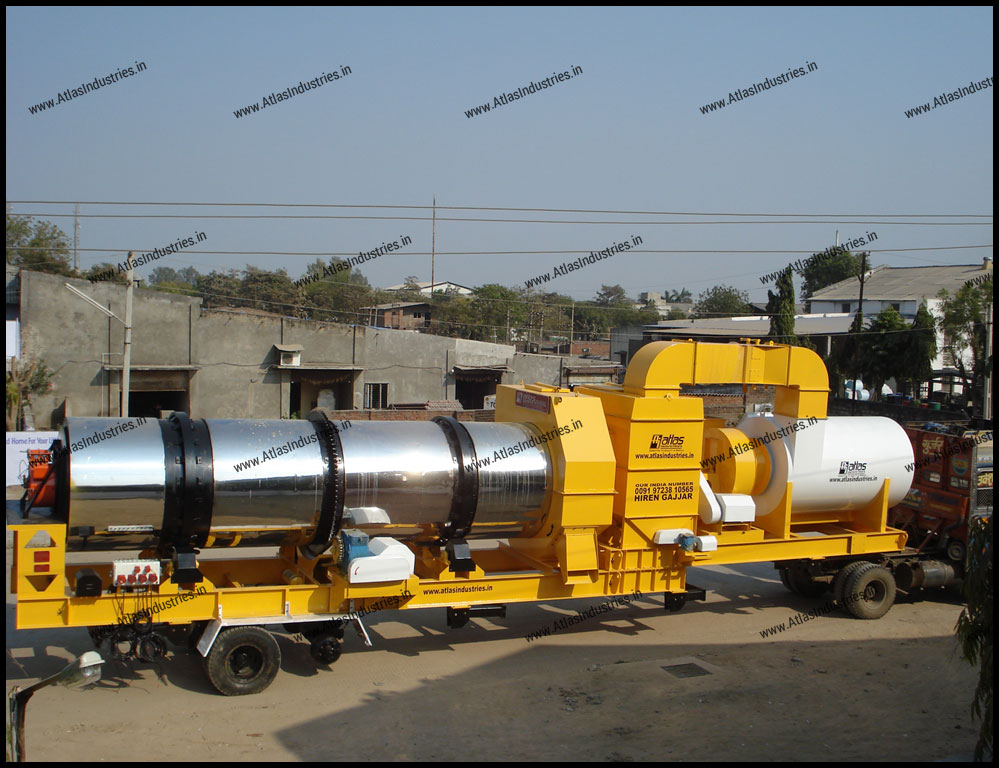 It features same simple design of the stationary plant in a mobile form for customers that want to move more frequently with the equipment and do not want any compromise in mobility, production or quality.
The plant is divided on multiple chassis which are assembled at the site thus offering maximum mobility. Each chassis come prewired with junction box, king pin system, pneumatic braking and axles with wheel hubs. This modular design of the machine makes it easy to quickly disassemble units for transportation. Since each unit is pre-wired, wiring can be done in quick time allowing the plant to start quickly. Primary and secondary pollution control devices are available.
Mobile design available in the ever simple drum mix plant.
Small asphalt plant on three chassis ideal for small jobs. This plant is available in one capacity of 20-30 tph. The feeder bins are 2 x 2 bin type and can store four different aggregate sizes. There is a single conveyor which runs below the aggregates and it takes the aggregates straight into the drying and mixing drum.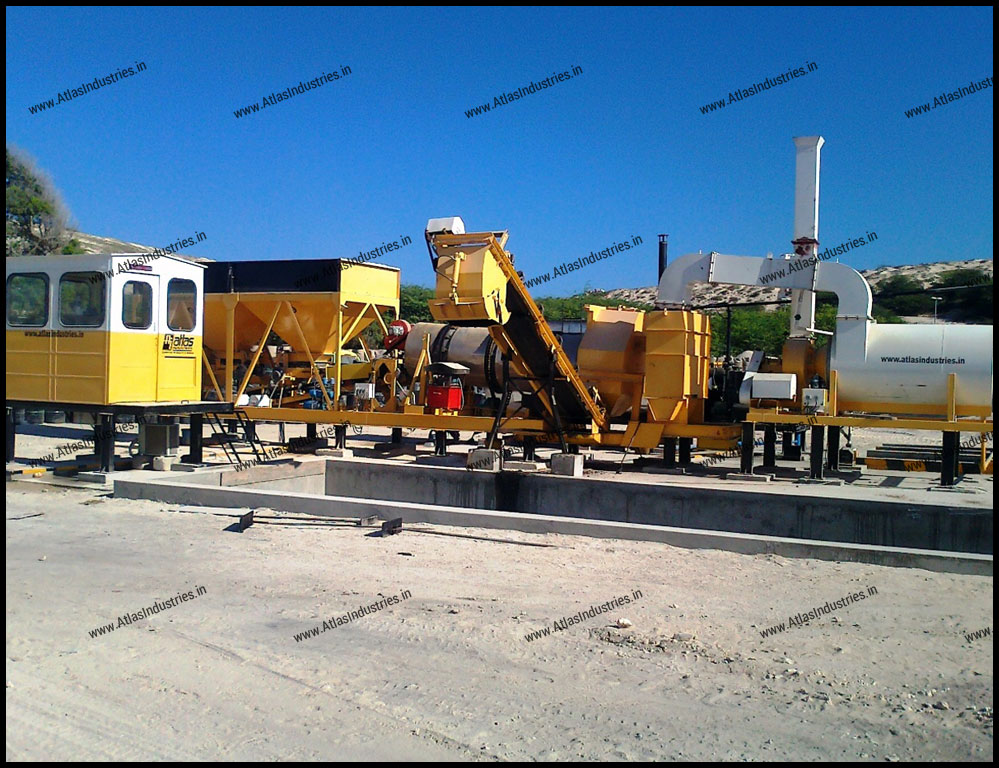 Both the aggregate feeders + drying and mixing drum are on a single chassis. The bitumen tank, filler hopper and control cabin are on another chassis. The pollution control device comes separately on another chassis. Controls here are microprocessor based or PLC based depending on the choice of the customer.
Ideal for customers looking for small and portable plant to move places more frequently.
Conclusion:
I have tried to cover all the aspects and all the models that we have. It is very important that you understand your requirement and discuss the same in details before you arrive at a decision. This is a long term investment and should be done carefully. It is highly advisable to visit multiple manufacturers and compare products offered by each before arriving at a decision.