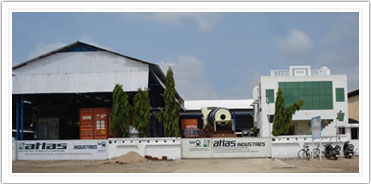 ATLAS INDUSTRIES is an ISO 9001 : 2008 company engaged in design, development, manufacturing, marketing and servicing a complete line of Asphalt Batching Plants, Wet Mix Plant, Portable Concrete Plant,
Bitumen Sprayer Distributors and Mechanical Brooms.

Based in Gujarat, India, we are road and civil construction machinery manufacturers and exporters in India. As manufacturers of road machinery, we are the ones who offer quality road machinery and cement machinery equipments. We understand that our job is much more than being construction equipment manufacturers, we are responsible to all the people who are concerned with this road and building industry and we strive to provide the best of asphalt machinery. Merry Christmas SMS , Merry Christmas Wishes , Merry Christmas Greetings

We are respected manufacturers of asphalt and concrete machinery exporters. We have dedicated people to serve the building and machinery industry and to provide our customers with the best of construction equipments from India. Drum mix plant is manufactured by a lot of manufacturers but ATLAS INDUSTRIES, Mehsana is a quality manufacturer of drum mix asphalt plant in Gujarat. ATLAS INDUSTRIES is one of the best civil machinery company in India who understand its responsibilities as a batching plant manufacturers manufacturing concrete batching plants in India.

If you have a requirement for used equipment or machinery, we can provide you with good and economic road construction equipment or building machinery. We have a wide variety of construction equipments.

We have a lot of confidence in our abilities and we always strive to provide our customers – leading road construction companies with the best advice related to the purchase or related to road maintenance equipments or any cement machines. You can always rely on us to source your civil machines.

ATLAS has grown to be the market leader by being a customer-driven company. Through listening to our customers and understanding every aspect of their business, we are able to provide new products that solve problems and increase profitability.

Our special emphasis will always to provide customer with a quality product that runs for years and that we want our customers to remember us through the difference that our product and services make. A smile on our customers face will be our top priority while making each and every product.

Along with technologically advanced, top-of-the line product, ATLAS focuses on providing excellent service. The company dispatches its service personnel all over the globe to help set-up facilities and train operator. Our technicians staff the call-in service department and offer technical assistance and troubleshooting for plants, even if the customer's problem does not involve an ATLAS plant.

From top to bottom, this is the best team in the business. We have diverse experience in all phases of manufacturing, plant operations, parts and field service, etc., culminating in ATLAS Asphalt Plant Products' ability to provide our customers unparalleled total customer satisfaction.

We recognize that a common sense commitment to doing the right thing is what distinguishes ATLAS. When you work with us, you can expect:

Professionalism: We're dedicated to providing exceptional service to our clients by being responsive, effective, and reliable.
Persistence: We do things the right way, even when it's the hard way. We'll always seek to do what's best for you and your company.
Precision: We're proud of every job we do.
Experience: With 30+ years of experience in manufacturing road building equipments we know exactly what we're doing.
Quality: The best quality products in the business.

We're more than just a manufacturer of Construction Machinery equipments, and our clients experience results beyond asphalt and cement. The proper maintenance of paved surfaces is a critical business requirement, and our clients rely on the experience and resources of ATLAS to help maximize the value of their properties by delivering road construction machinery products which are superior in quality.

Utilizing our services, our clients enjoy:

Pride of ownership of the BEST quality product.
Peace of mind in knowing that the equipments purchased are manufactured by someone who is the best in business.
The satisfaction of working with one of INDIA'S leading manufacturer of Road Construction Machinery.
OUR VALUES
We believe our first responsibility is to the contractors, workers employed with them, people, government and all others who use our products and services.
In meeting their needs everything we do must be of high quality.
We must constantly strive to reduce our costs in order to maintain reasonable prices.
Customers' orders must be serviced promptly and accurately.
We are responsible to our employees, who work with us.
Everyone must be considered as an individual.
We must respect their dignity and recognize their merit.
They must have a sense of security in their jobs.
Compensation must be fair and adequate, and working conditions clean, orderly and safe.
We must be mindful of ways to help our employees fulfill their family responsibilities.
Employees must feel free to make suggestions and complaints.
There must be equal opportunity for employment, development and advancement for those qualified.
We must provide competent management, and their actions must be just and ethical.
We are responsible to the communities in which we live and work and to the world community as well.
We must encourage civic improvements and better health and education.
We must maintain in good order the property we are privileged to use, protecting the environment and natural resources.
We must experiment with new ideas.
Research must be carried on, innovative programs developed and mistakes paid for.
New equipment must be purchased, new facilities provided and new products launched.
Reserves must be created to provide for adverse times.
When we operate according to these principles, everyone associated with us should realize a fair return.