Tired of your unproductive wet mix macadam plant?
---

Bought a WMM plant which promised productivity at lower costs? Instead ended up maintaining the plant frequently? We have seen contractors having to waste a lot of valuable time maintaining the plant while leaving aside the job of road construction aside. Well, no one will like to be in such a situation. Will you?
This situation can get worse when you know that your 200 tph plant is not producing more than 170-180 tph while the competitor's plant is. The gears fail frequently; mixer breaks down frequently and requires maintenance. You got this plant after visiting the manufacturer and believed what he said. The presentation and price given was tempting. This equipment was supposed to give you tension free performance whereas it is giving you headaches. Here we are talking about situations assuming you have a skilled operator for the wet mix macadam plant who knows the operation and maintenance of the machine. There may be many reasons for the breakdown of any equipment; we cannot always blame the manufacturer. Even a well made plant can have frequent breakdowns when the operator is not skilled.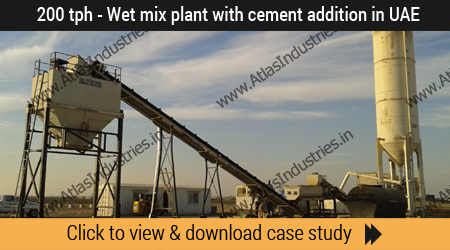 We understand that any equipment is and will be subject to rough and continuous usage and will be set at projects requiring being completed in specific time frame. You don't want to compromise on the accuracy or the productivity of the equipment.
Atlas Industries has solutions to your needs and we have come up with proven design of wet mix plant. We believe more in quality and prefer that when equipment leaves our factory it is pre-inspected for quality.
In this article I will be highlighting key points as to why buyer should prefer our wet mix plant over other manufacturer. We will try to put forward advantages which are not in other wet mix plants.
If we start with the cold feed bins, you have the option to store four different types of aggregates (even sand). The bins are with variable speed drive motors to control the required aggregates as per your mix design. We have designed plants with more than four bins to accommodate variations in aggregates.
The weighing is done by the load cell on the charging conveyor when the aggregates are transferred to the pug mill unit.
Pug mill mixing unit is the one with advantages not offered by many. This unit has to be the best and maintenance free because it is subject to the most torture. Since, you need to squeeze out every dollar spent on buying and using this machine a maintenance free pug mill will help you achieve that.
So now you know who to contact when you require a quality wet mix macadam plant assuring years of tireless and honest service.
If you have any questions or comments, join us over on Google+.